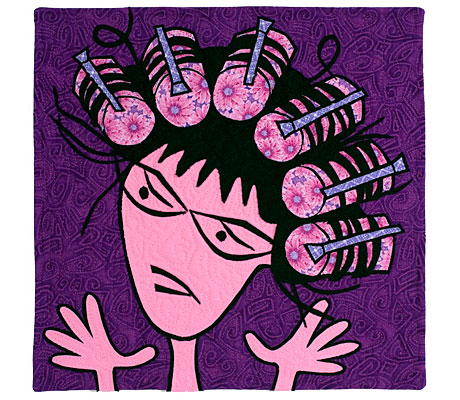 I've been asked to be juror for a exhibition called Sense of Humor, sponsored by SAQA (Studio Art Quilt Associates) that will be shown in a gallery space at the International Quilt Festival in Houston next October and will published in one of SAQA's handsome catalogs. The postmark deadline is January 30, 2009.
You may submit up to 3 entries measuring H=26″-60″ and W=26″-30″, completed since Jan. 2007, and fitting the SAQA definition of an art quilt: a contemporary artwork exploring and expressing aesthetic concerns common to the whole range of visual arts: painting, printmaking, photography, graphic design, assemblage and sculpture, which retains, through materials or technique, a clear relationship to the folk art quilt from which it descends.
You must also be a member of SAQA, an organization to devoted to promoting art quilts, but there are many benefits to membership beyond just a few exhibits. They have conferences, publish portfolios, have an on-line wiki university, and probably more stuff I'm forgetting to take advantage of. You can get the prospectus off the membership "call for entries" page.
I'm not sure why the size restrictions for the show, now that I think of it, I don't even have anything that fits this size. Of course I didn't for the New Focus exhibit curated by Kim Ritter and Judy Dales that is going up in the Coos Art Museum in Oregon later this month — so I made something. You can see "Surprise!" at the top of this post, just shipped it off late last night. So glad the main Fed Ex office is only two blocks from my studio.