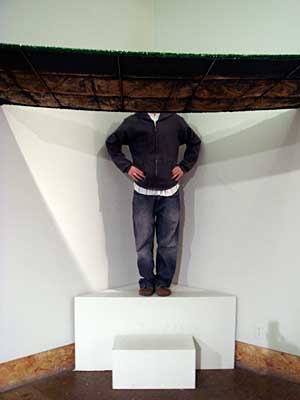 What is humor? I been thinking about this question since I was asked to juror the show for SAQA called "Sense of Humor" (see last post for more details.)
I'm not going look in some dictionary and give you the definition, I don't even know what a real definition is — I just have my own personal definition: humor is thinking outside of the box. And here's another one: creativity is thinking outside of the box.
What was it they told us in algebra? When A=B and C=B, then A=C. You do the math. Anyway, that's just my own take on things.
The above photo was taken at the Urban Institute for Contemporary Art last October at this event on my blog. The artist: Jeroen Nelemas. The art is not the man in the photo, it's the installation made of grass, astroturf and metal grid called "Six Feet Above." When you climb the steps, then turn around and look out, this is what you see looking out from "Six Feet Above" to the biggest exhibition space at the center.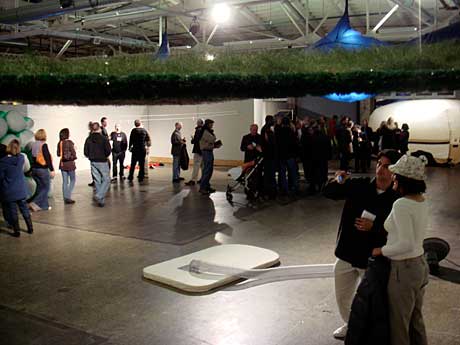 The thing below is another artwork by Keith Lemley called "Hovercraft." Also not as it appears at first glance. You have to experience it. Here's the directions.

And here's me doing my Silver Surfer impression — it really does float and move around, but not recommended after a glass of wine at the opening. Or maybe that's when it's best.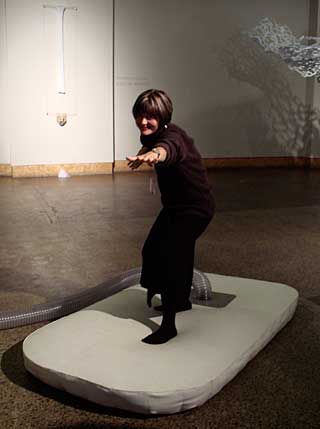 That thing hanging behind me is another installation by Vanessa Tomczak and Carl Bajanda. The little gizmo at the bottom very slowly unknits the long white hanging scarf(?), you can see the pile of unknitted yarn at the bottom.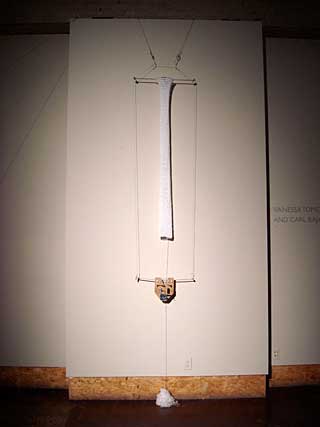 Here's some details. Click to make big.

I loved this show and my whole experience at the UICA. Just curious, does anyone else think this stuff is funny?