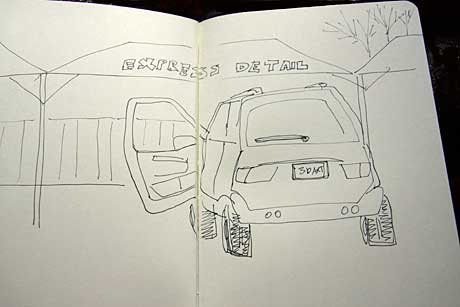 Usually I take a stab at re-organization at various times throughout the year, not just at the New Year. But this seems like a good time to mention my favorites. (Sorry PC users, but I think these are all mac-only programs. Although I still use a desktop PC, my main laptop is a Mac.)
• OmniFocus – fluid to-do list and multi-step project organizer. After a brief love affair with hand-written lists, I've gone back to computer listing again because it's easier to manage a complicated schedule.
• MacJournal – for odd sorts of short lists, ideas, and reference material I can't figure where else to put. I'm using it to write this blog post until it's ready to be published.
• Bento – just got the upgrade to version 2 of this program. It's an elegant little personal database program that has nice templates you can use right away, or easily customize. I'm planning on improving the database of my artwork I started last year. Tracking where the art is, when it's coming home, and where it's supposed to be going next is getting more complicated, and I could save time by not having to go to several sources to find the answers to these questions.
Above drawing is from the car wash — although those auto-magic places seem to take a long time because it's one of few sunny warm days in winter and everyone in town is there — if you're trying to draw something happening, seems like only seconds. Even though I've been sick (this whole year so far!) still trying to do the drawings.