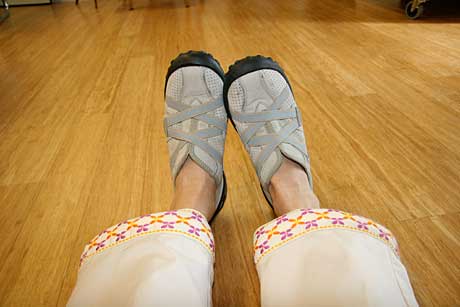 It's hard to take a photo of your own ankles. I finally did this one by sitting down on the floor. Do they still call them high-waters? These aren't capris, just petites with an extra P which also means cold ankles in winter.
December brought lots of painting deadlines, but also the realization that my paint pants were too short. So I found some vintage ribbon in a box and sewed it on the bottom. Surprisingly the ribbon didn't shrink after washing, but the yarn on the back was getting snagged, so I added a lining.

This quicky project turned out so fun, I'm hoping to add little bits of trim and embellishment to other old clothes. My friend Emmie makes custom art clothes, but not being so ambitious I think the embellishment route might be better for me.
Emmie also took me to Margie Pearl's where I saw some vintage trims that I loved but didn't buy. Now that I know what to do with the stuff, I'll have to make a return trip.
Update: I probably got the idea for this from reading a post on Jeanne Williamson's blog about altering a pair of capris with trim. Also Emmie asked why I didn't just buy longer pants and hem them. The answer – I'm pretty bad at measuring, so hemming usually results in lopsided pants. Beauty of the vintage trim method – no measuring!