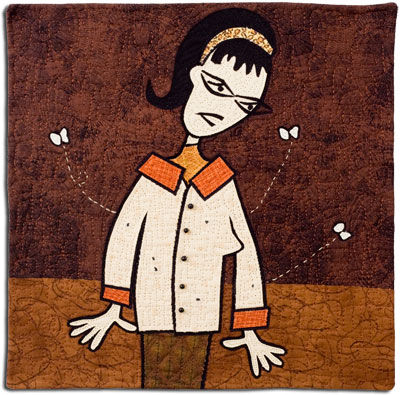 Code name for this project is "Moth Eaten", sounds like it would be a good spooky movie, eh?
But actually the full name is "Oh No, Another Moth Eaten Sweater" and it's only 12" x 12". I made it for Art Gallery in a Box that will be auctioned at the next Quilt National banquet to raise money for Studio Art Quilt Associates.
There are eleven other artists whose work will be in the box: Bob Adams, Velda Newman, Patty Hawkins, Pat Kroth, Ann Johnston, Kim Ritter, Margaret Cusack, Carol Taylor, Chiaki Dosho, Enge Mardal and Steen Hougs, and Carol Bryer Fallert. (Thanks for the list Kim!)
I don't often do small pieces like this, but prefer to work work large enough to create a kind of presence, or even better to put a lot of big pieces together in a room to really have wall-to-wall presence.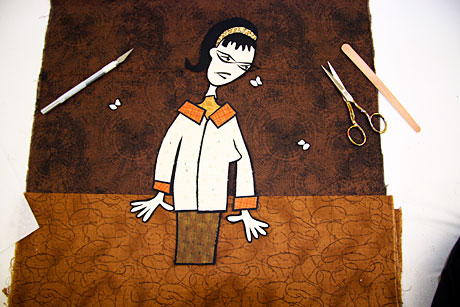 (The moth holes are actually holes, so I went at it with scissors and other sharp objects. It's hard to make something, and then intentionally put holes in it.)
Working small is different, I'm not trying to miniaturize — although I've seen art that is very small and complex, like looking through a tiny peekhole into another world, kind of a Horton hears a Who relationship that can really draw you into another dimension, absorb you, and that can be delightful.
When I do work small, I try to edit out all the busyness that tends to creep into my work and leave a distillation of one small thought — kind of like a little haiku moment.
This was the moment last year when I pulled a sweater (a bit too big, but still loved it) out of the closet and realized there had been some criminal moth activity (actually the moths were just being moths — I was the one who thought it was criminal.) Here's another drawing about those moths' appetite for sweaters.
Update: Here's a photo on the SAQA website of the Art in a Gallery box and collection of quilts.