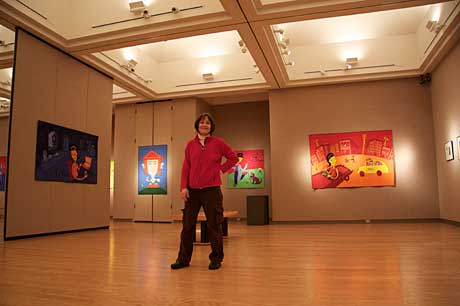 Here I am with my installation pants on — one side pocket holds my spy camera and the other my phone. Although I was dressed for it, I didn't really do much of the work because I had so much help! And the good photos were taken by Russ. (Photo by Russ RuBert of course.)




The last few days have seemed like, a fast-moving blur! I didn't have a lot of notice for this show because of a schedule mix-up last November. But seeing as it was my alma mater, I was excited to hustle up what work I could (end count – 30 quilts, 7 drawings.) Actually, I was an English communications major at this school, but my art classes and art profs made a much more lasting impression on my life.
This art center and beautiful gallery didn't exist when I was a student — our old art building burned down (I had nothing to do with that!) So I wasn't really sure what that the new gallery looked like in real life. When we first walked in, the bottom dropped out of my stomach. The gallery looked huge, and I thought, there's no way I was going to be able to fill the space. But soon it became apparent, that actually we needed more walls. Well…..like magic, walls appeared.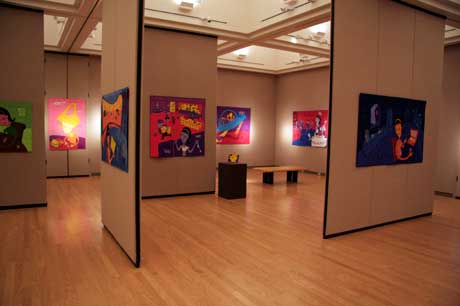 Although the show still has to be lit properly before it opens tomorrow, I wanted to show you these cool sliding panels that come out of a closet and move on tracks built in the ceiling. Once you arrange the sections or walls that you like, you anchor them to the floor, and just hammer nails though the neutral-colored carpet covering the walls. Easy to hang stuff! The hard part is deciding where to hang it.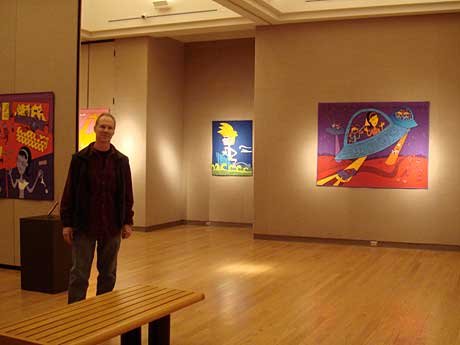 But here's the one who deserves the real credit — my own Superman! He's the guy who is always working quietly behind the scenes – organizing space and structure, amazing with tools, and making everything I do work and look better! It sure is nice being married to a sculptor.
We also had a wonderful helpful crew from the gallery. Vikky, the director brought in her whole family and Amanda, the student assistant was a better worker than me. Okay, now it's time to go home and crash.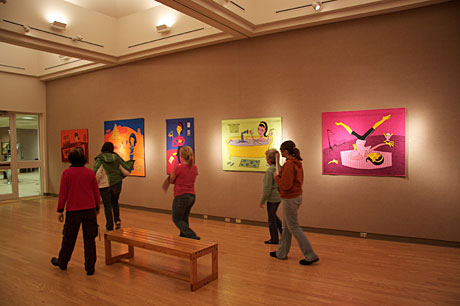 (for some more photos and explanation of how we setup the exhibition, go to my Facebook album here.)
You can see this show February 2-27, 2009
New Time: Artist talk and reception, Thursday, February 26, 2-4 p.m.
Mildred M. Cox Gallery
William Woods University
One University Avenue
Fulton, MO
9 a.m.-4 p.m. Monday – Friday
1-4 p.m. Saturday – Sunday.
Admission is free and open to the public.
For more information
call (573) 592-4245