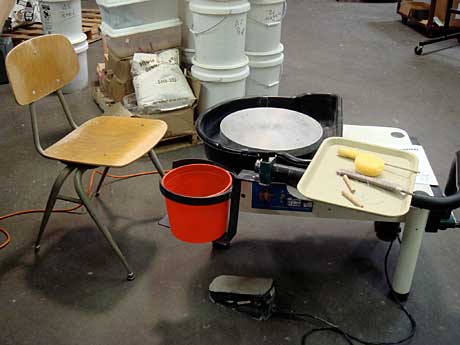 Remember last year when I mentioned being struck down by ceramics by Lisa Naples? It was one of the those epiphany moments for me: Whoa — clay being used with texture, color, words, and images!
>>>Update: Some how I missed linking to Lisa Naples main website here! Thanks Andy! <<<
After that day I talked a lot around here about getting back into making stuff with clay. Not that I plan to stop making quilts. But I'm interested in bringing to it some of my ideas and things I've learned over the past few years.
So guess what appeared under the Valentine tree last weekend? A whole set of clay-making stuff — a wheel, kiln, clay, bunch of glazes, and hand-tools. My sweetie found a ceramics studio that was going out of business and got a truck load of great stuff at auction. What a surprise to find the whole setup in our studio!

I've gotten a lot of metal hearts over the years, but this the first time for a clay heart. What a great guy! I can't figure out how he got it all here, and I'm pretty overwhelmed.