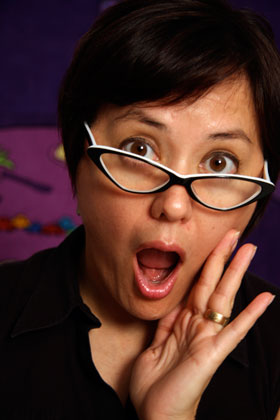 Hey everyone, your attention please!
William Woods University asked me to change the date of my artist talk and reception at the Cox Art Gallery to Thursday, February 26, 2-4 p.m. (I think because of a couple of student classes that want to attend the talk.)
But being the blog slacker that I have been lately (umm, my dog ate my blog….) I forgot to change the date on the original post and my Facebook photo album. Till today, when a dear old friend from far away commented that she'd be visiting on Friday….uh oh.
I was planning on taking down the show Friday, so if anyone is planning on showing up that day, let me know by email or Twitter or Facebook and I'll be sure to be around. And I won't take the quilts down until you get to see them, we'll have a grand time visiting, and then maybe I'll even make you help me pack them up! Deal?
Oh, and here's a great photo of the show my dad took.