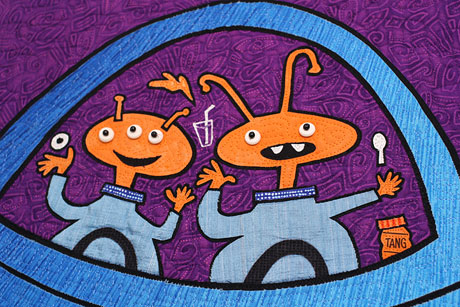 No kidding, this morning I woke up to the sound of an alien ship landing in the bedroom. Turns out, someone changed the alarm buzzer on their iPhone. I didn't know it could do such a good alien spaceship noise.
Then I found out that I had to pick up donuts for the meeting Russ was hosting at our studio today — an Art Attack meeting for a coalition of public policy makers strategizing how to promote more local public art.
Happily there is a donut factory only two buildings over from our studio. I love going in there an watching all the cute little donuts riding along down the conveyor belt, unsuspecting of their final destination.
Not sure why I'm writing, but my brain is little unraveled today, trying to think what I'm going to say tomorrow for an eclectic group at the gallery, and numerous other deadlines lurking in the shadows of the weekend. But today the sun is finally shining, and we are able to drive with the windows down — so it's a good day!