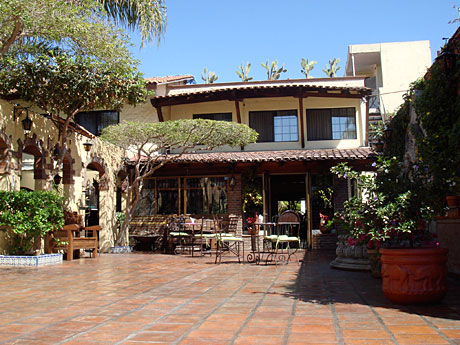 Waaay behind on posting these days. We flew away from snow and ice, and are now enjoying sunshine. I've packed a bunch of art supplies and am actually dragging them around in my shoulder bag every day.
I saw guy at the hotel who had the coolest bag — when I asked he said it was a vintage Swiss army gas mask bag (sans gas mask) he got from a flea market in London, so have been plotting to find my own vintage bag for art supplies when I get a chance.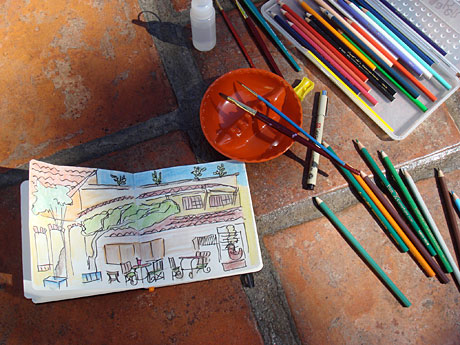 We are staying at our friends' boutique hotel and traveling as part of Russ's Rotary/Sister City group, to see the progress of donations used build an extra classroom, office, and play yard for a family-services school in our Sister City. We were also supposed to help build a soccer park, but though we all brought tools and such, the goal posts haven't arrived, so that project will have to be postponed.

Russ came up with a great art project to do with the entire school, but it was interesting explaining why we were carrying 50 pounds of chalk to customs and airport security. I loved that this little guy drew a chalk track and then drove his car on it. How Harold and the Purple Crayon is that?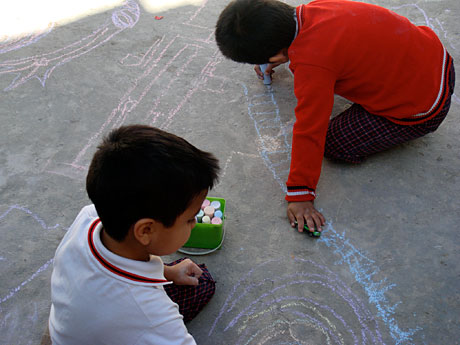 It was a fun day, working with the kids at the school — art usually bridges barriers of language and custom. Sister Cities motto is "Peace through People" and the projects are grass-roots — a great way to travel, meet, work with people, and make friendships.