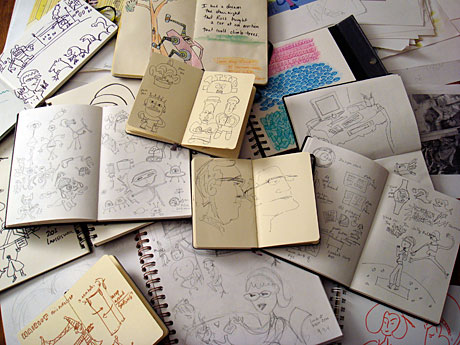 It's kind of embarrassing how many half-filled sketchbooks of all shapes and sizes that I have laying around. As I've gotten more in the habit drawing, I tend to pick one up and carry it around in my purse for a while, then lose it in a stack of books. Then start another.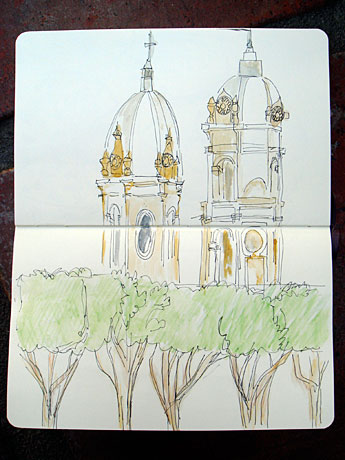 Before now, I never much cared about the lack of continuity, but on this last trip I did so many drawings I was wishing that I had dedicated a new book to it — so that I would have one of those cool travel art journals I see in art books and magazines.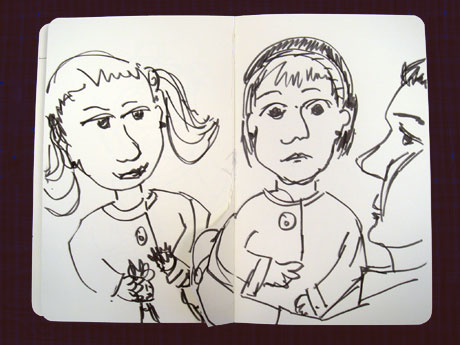 Then I did a few drawings of this family, but messed up the page in between — and had the idea to cut it out, leaving the only the dad's hand, kind of like a pop-up book.  And that was that. Started cutting up the whole thing.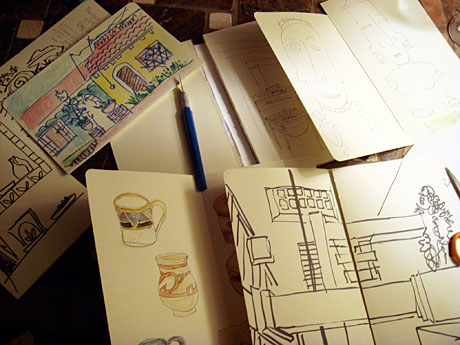 Moleskine sketchbooks are great because you can cut the threads between signatures and scrape the glue off the back, and have a nice open page. I've done this before to frame some sketches, but have never tried to reassemble them into a new book. Now I'm in a quandry how to resolve this.
And I'm noticing how some of my ideas are scattered across many sketchbooks in a very disorganized way and wishing I had a way to keep certain project ideas together.
How about you? Ever cut up your sketchbooks, or do you dedicate certain books to themes to keep your drawings organized. Or do you even care?