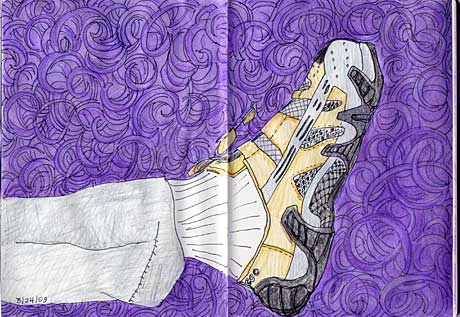 Over the past few years I've been trying to get into the habit of keeping a visual journal or sketchbook, but now I find myself wondering how to deal with the rather disorganized pile of sketchbooks I've accumulated. So I posted the question on my last post of how to organize them, and was surprised at all the helpful suggestions I got in the comments section. Here's a short summary:
Date your sketchbooks and individual pages (several people suggested this, and I now when I look back to older sketches, wish I had done it.)
Cut and Paste –"Forget neat signatures and just cut and paste to your heart's content until you get the cohesive story you want" thanks to Kristin.
If you use spiral sketchbooks, you can take the coil out and reassemble them in a different manner, said Gwen.
Leave the first 2-3 pages in the book blank to leave room to write an index to specific pages. "On 'continuing saga' projects, I also write all the pg#s and ntbk info at the top of each page. Sounds kind of anal I know, but I got tired of hunting all over the place for patterns and design solutions." said Ceci. (some people also wrote an index at the back of each sketchbook, or just inside the cover.)
"scan spreads and then upload and tag them on Flickr so they can be organized by topic/theme, etc." said Carolyn.
Several people mentioned that they keep different sketchbooks for different topics — i.e. art quilts, travel, home decor ideas, book design, etc.
"Sticky note tabs to mark specific projects within a book." said Loreen
Scan or photocopy sketches to assemble into "new books of their own (japanese-style, maybe), or make them into accordion books. These can be organised by project, or topic, or date, or whatever" said Margaret.
"Got a bad journal page?- rip it out, paint it black or paste something else over it." Sounds like a Rolling Stones song, but good advice, Sandy!
If you add or paste stuff into a sketchbook that is hard-bound, cut out a few pages to allow room for the added bulk. (I've been thinking about pasting in some of my fabric experiments.)
Use different sizes and journals with different types of covers to distinguish them for different projects or trips. Or make different looking covers, suggested Dijanne.
"Sew the signatures together…and cover it…you might try this http://michaelshannon.us/makeabook/index.html" wrote Margaret.
Almost forgot to say, Thanks everyone for all your comments and suggestions!