When I received the new Quilt National postcard, it reminded me the opening is soon — next weekend. And hey, I just checked and there's a new QN website to explore — here's a list of all the QN09 artists. I can't remember if I mentioned one of my quilts was accepted, but I'm on the list!
It's not a PaMdora quilt, because I sort of wanted to see what would happen if I submitted something other than PaMdora — would it be accepted? So I started the new "Wish You Were Hair" series. Another lady did get accepted into the 2009 show. She doesn't have a name, but she does have an attitude.
PaMdora will be at the QN banquet though, wearing her old "Moth-eaten Sweater." I did that little quilt for the Art Gallery in a Box IV which will be auctioned at the banquet to raise money for Studio Art Quilt Associates. Here's the postcard for that: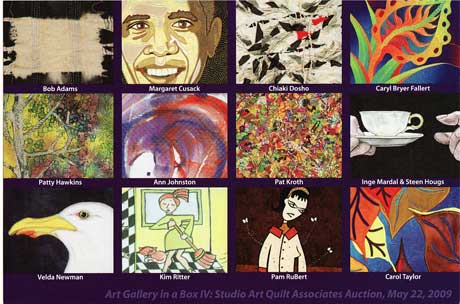 Taking a peek at the names of the other artists who were accepted and the many other people I know will be at the SAQA conference, I wish I could be there too! The last two were a lot of fun. Here's my blog posts from the 2007 opening and party next day outside The Dairy Barn.