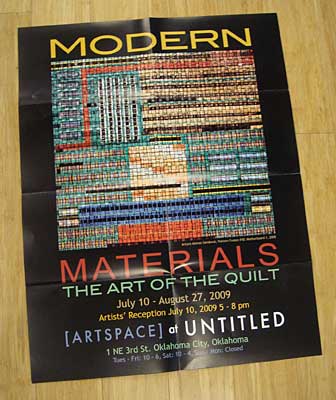 Speaking of summer shows, there's a stellar show curated by Jill Rumoshosky Werner that's in the works for July 10 – August 27, 2009. It will be at [Artspace] at Untitled gallery, and I'm really impressed that the curator and gallery has decided to feature so much three-dimensional work — at a time when many shows are pulling back from allowing 3-D work.
Jill has done a great job assembling an great group of artists and she's gone the extra distance to publish a curator's blog. Scroll down through the blog, and you'll see posts about each of the artists and why she invited them.
The poster above was published by [Artspace] instead of the usual postcard announcement. I love the way the graphic designer used the colors of Arturo Alonzo Sandoval's quilt to map out the colors of the text. It folds for mailing (hence the fold-lines in the photo), and I have a few extra, so email me with your address if you'd like one.
Here's the full press release from the gallery about the show, catalog with introduction by Sandra Sider, and a couple images of work for the show.