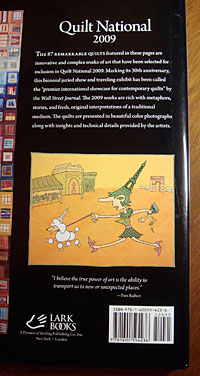 When I first got into some art shows and was asked for an artist statement, I often spent a lot of time at the word processor — refining and tweaking and trying to cram as many power-packed poetic words into the space allowed. Type…..check the word count…..retype……check the word count.
Now after a year of using Twitter (only 140 characters, not words allowed!), or maybe because I've decided I'd like to leave some mystery for the viewer, my statements are getting much shorter than the space allowed.
In fact, my statement for Quilt National 2009 was only one sentence long. I'd actually forgotten I'd said it because it's so core to what I believe that it seems apparent, but was pleased to see it in print. And it also ended up on the back cover of the book. Sometimes I guess, less is more.
In case you can't read my quote in the photo, it says, "I believe the true power of art is the ability to transport us to new or unexpected places."