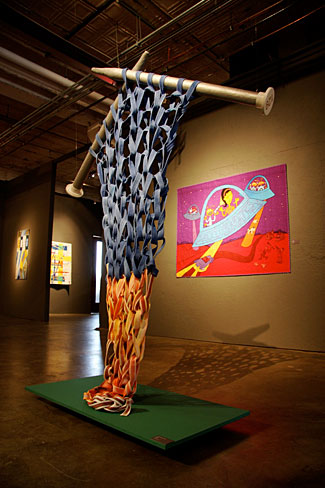 Last weekend at the opening of Modern Materials: The Art of the Quilt was a real treat. The [Artspace] at Untitled gallery was my kind of space — mix of old and new and art galore. Flavored largely by the art collection of eye of [Artspace] Founder Laura Warriner, the gallery sits on the edge of hopping Bricktown and only three blocks from the Oklahoma City National Memorial.
The show has brilliant piece by top artists working in the quilt medium today, people who are really pushing the boundaries and taking changes. Curator Jill Rumoshosky Werner who did the humongous "Knitted" piece above did a great job of curating the show. Love looking at PaMdora throught the knitting weave….hmm, maybe I could talk Jill into doing some kind of installation collaboration someday!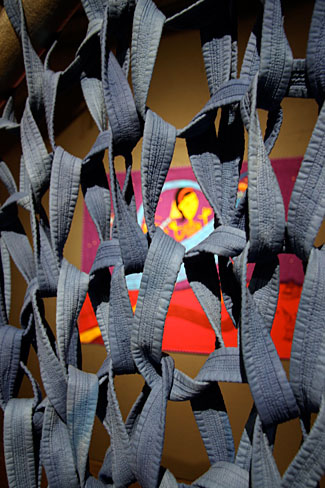 Jill and the gallery staff all treated the visiting artists like royalty — they published a snazzy catalog of the show (and free! through a grant), let us have the run of the second floor for things like cooking up Elia Woods' home-grown eggs into huge omelets, organized an artists' panel discussion, and mud-painting on cloth demo.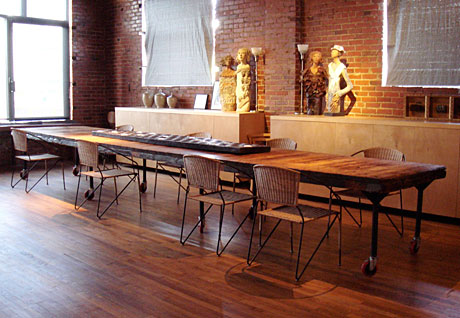 My talk went pretty well. Instead of going up on the Oklahoma Memorial and local art studios tour (which I was really sorry to miss), I sat at this crazy long table, tweaking my talk and keynote presentation. Actually I had a blast sorting through 20+ years of photos, organizing some 400 into a talk I mentally titled "RuBert Studios: Creativity, Art, and Building Artists' Communities through Volunteerism and the Internet."
The images alternated between my husband Russ RuBert's work, my work and our studio, and showed how they all influence each other. I flip through images pretty quick, some like how my quilts come together are almost like animations. But still, I ran over the allotted hour by 15 minutes. No one seemed to mind too much though.
The best part was meeting and getting to know the other artists and the cool people in Oklahoma City who are doing some really exciting art collaborations. The gallery videotaped my talk, panel discussions and workshop, and did pod-cast recordings interviews with all the artists. So we're looking forward to see that on their new website, I'll let you know when that's online.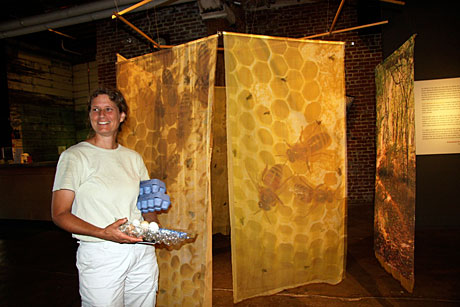 Here's Elia Woods holding her home-grown eggs standing by her quilt "All Paths Lead to Home." One of my favorites in the show, but challenged even my open defination of a quilt. Doesn't matter though, it's also sculpture which is a great achievement. Wish I could say more now about the show — I also spoke about some of my impressions and explorations of the Modern Materials show on Saturday night. But since we're already knee-deep installing Russ's show that opens this Friday, I'll have to save that for some other time.
In the meantime, check out all the photos I posted on Flickr about the show, gallery, artists and weekend activities.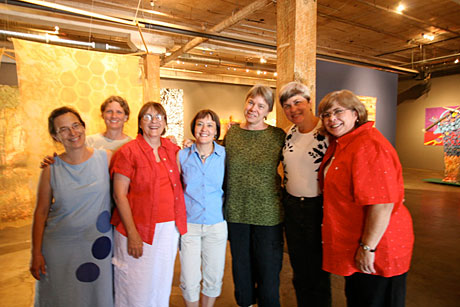 Pictured above, left to right: Angela Moll, Elia Woods, [Artspace] at Untitled Founder Laura Warriner, Pam RuBert, Susan Else, Theresa M. Heaton, and curator Jill Rumoshosky Werner.