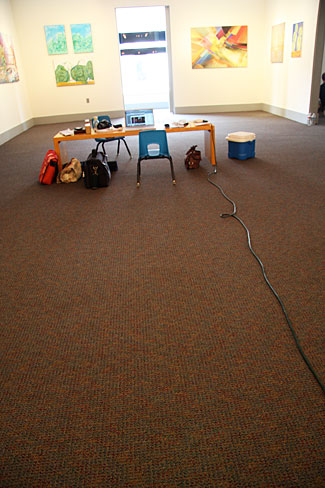 Welcome to my temporary office. Please have a seat, if you don't mind a small child-sized chair.
I have to admit that I travel with ridiculous amounts of gadgets and electronics. But the most important thing I've learned is to also bring an extension cord.
It's much more fun to work in galleries than hotels. Give me some gallery space, and I'll usually just slowly take over whatever is open. The gallery where Russ was installing his 3D Neonscapes was especially nice because they had pocket doors in the walls that could be opened to create a window view of the outside. Gotta remember that feng shui even if it's only for a day!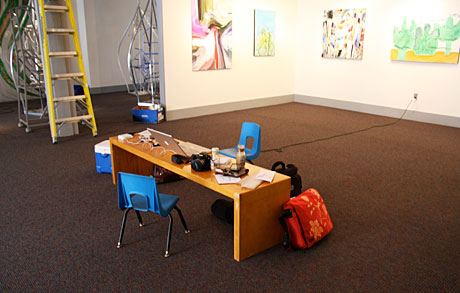 While it can be difficult to find an empty table, I can usually find a bench to work at. I don't mind working on benches since I'm happy being low to the ground. But the cooler was hard and cold to sit on, so since we were driving home every night, I brought these toddler-sized chairs from the studio so I could sit in style.
I got them at a church basement yard sale for cheap — and they've been wonderful. Strong, sturdy, better than a step stool for reaching the top of my design wall, and good for company when the company is pint-sized. So if you ever see anything like this at a garage sale, snatch them up quick!
What was I working on? Downloading and editing photos, posting them on websites, writing press releases. Got a lot of work done and what's best, out of my normal box and surrounded by creative and energetic people has gotten my brain whirring. The opening reception was really good, will try to post some more photos tomorrow.