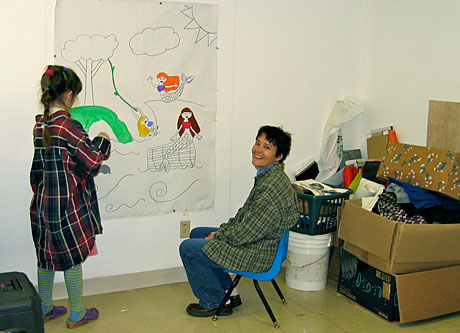 Sure, becoming an artist is a long rough path with lots of hard knocks. We all know that. But who do you owe — for tiny little favors or inspirations along the way? Although we often hear about mentors and role models, sometimes it's the smallest of things that give us light and illuminate our path. And it's good to remember and be thankful for those.
This photo was taken in Febuary 2004, back before I cleaned out and took all the old junk to the salvation army (aren't digital photos great — I can always reference a date using the file info). A friend from college has a daughter who is an artist, and she asked for help to recreate the daughter's drawings for a bedroom mural.  After scanning, resizing, and combining her small drawings into a scale drawing that would fit the wall space in a bedroom alcove, I had learned the rudiments of what was to become my pattern-making process for making wall quilts.
Not only that, I was exposed to a wonderful imaginative world of cats who went to garage sales and sushi bars, cats who competed in the Olympics, picture stories of mermaids and other characters acted out by the author/artist.
I can't tell you how all this entered into my artistic psyche. But that it did.