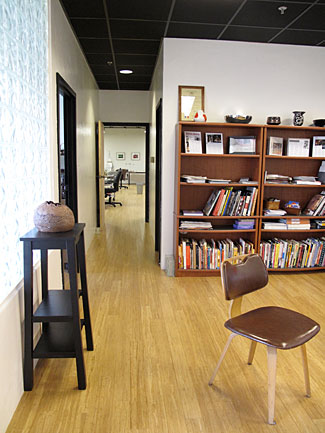 After renovating the studio last year, we've gone to a whole new aesthetic — from orange and black checkered floors and multi-colored walls to more of a retro-Swedish-modern look with bamboo floors. We call it Studio2.0.
It's a very calm clean atmosphere, much different than the usual colorful chaos of my fiber studio in back. I like that I'm finally getting papers, books, and other presentation materials finally re-organized after the mess when our studio flooded two years ago.
A couple of weeks ago I also feng-shuied my office, getting it really clean and organized, and usual, building my own furniture out of old doors and stuff I found in the warehouse. (Except for that $150 Art Metal retro desk that I love and drag from to where ever I happen to be working the most.)

However my new problem: The offices needs some art! especially since I've started talking to friends and family on Skype. When I'm on-camera, there's nothing but a white wall behind my head. The only quirks I have in here are the hula girl on my adding machine and my ceramic lucky cat. And that leopard-dotted sofa that I re-upholstered.
I keep thinking about dragging some quilts up here, but worry they will look out of place. But it's kind of like the cobbler's children have no shoes. No art hanging in the artists' studio? Okay, writing to you today has shamed me. I'll have to get working on this.