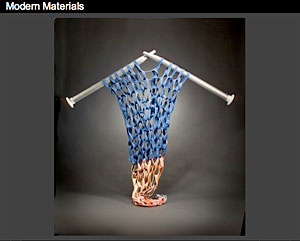 "Conceptual craft" is explained by Jill Rumoshosky Werner, curator of the Modern Materials exhibition at the Artspace at Untitled gallery in the audio interview that accompanies this slideshow that appeared yesterday on the Oklahoma City newspaper and website. The site also features a video of the exhibition and gallery space and this article with comments from the Artspace executive director Jon Burris.

The show will be in the Artspace at Untitled gallery until August 29. The gallery is currently checking into the possibility of traveling the show, so hopefully you'll have the opportunity to see it in another city.
Art Quilts Lowell 2009 opened at the Brush Art Gallery in Lowell, MA last week as part of the big Lowell Quilt Festival. Maxine sent me word that my quilt Traffic Jam that is part of the exhibit was mentioned in this article in The Sun, and also that the festival and shows had great attendance.That exhibit will be up until September 19, 2009.
Both of these show articles were sub-lined somewhere with "Not your Grandmother's Patchwork." I can't tell you how many articles that I've seen across the country with that headline or something similar. It used to bother me, but I've come to realize that it's original in each situation, because the writer or reviewer in that region is trying to dispel a common misconception that a quilt art show will look like a bunch of quilts. And if their headlines get more new attendance at these exhibits and venues, more power to them!