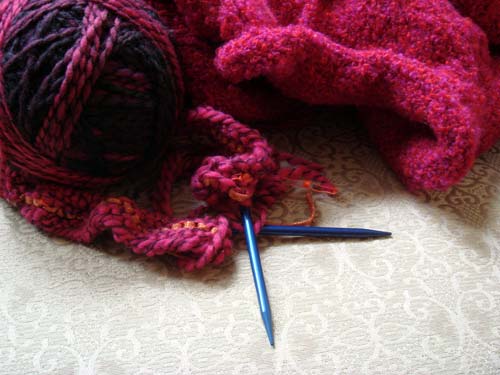 I used to think that writing was a linear thing, and it can be if you're telling a story. Then blogs came along, and it seemed to make sense to write and post things in order, because in the beginning they were kind of just an online diary of events or ideas.
Now there's the next generation of blogs. What I'm seeing now and starting to write for are blogs that follow a don't follow a linear time-line — blogs with front pages that link to all different places in the life of the entire blog.
There are ways to do this in WordPress — for example using sticky posts to make a certain post stay on the top of your post order or featured article categories that do something similar — so I'm assuming this is also possible in Blogger and Typepad.
So now I'm learning to write circular, because  you can't assume that someone will start at the beginning or end, or maybe you don't even want them to. If you're going to use a non-linear structure, you're got to think about things from the reader's perspective and try to give them some way-finding clues. What I call circular writing is not like circular thinking, a term many people use to describe a kind of obsessive pattern of going around and around in circles and never being able to break out of a vicious cycle.
Yesterday I realized that by "circular writing" I meant something more like knitting on a pair of circular needles in which you start with one loop of yarn and knit around and around making a tubular shape. When you knit in a circle, you are building on the past. Although you may revisit a place, it's not repetitious, because you're actually using it as a foundation and adding to it.
Circular writing also seems to me like making art. Over the years, I've found myself coming back to a theme or idea, sometimes not even aware that I am revisiting that idea until I've made something new and moved on. Only later do I realize the connection to the past.
Last week Karen left a comment on my "On the Road to a Improved Blog" that she wanted to start a one. I hope she does! I often hear or read about people who are are thinking about starting one, but something is holding them back. Just remember that starting a blog is like making that single little loop. Go ahead and get it started now so you can start building on it. It doesn't have to be important or fancy, just get going now! And I hope that the idea that you don't have to do things in a set order may be as liberating to you as it is to me.
If you're still wondering why you should write a blog, here's a great video from Tom Peters and Seth Godin about how blogging changed their lives, and why it's important to do. Everything they say has certainly been true for me.