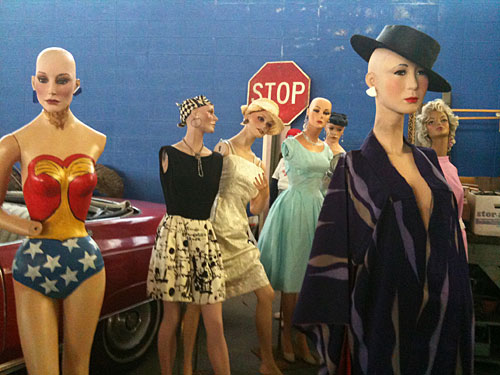 Today we were cleaning and setting up for an ArtsFiesta event tomorrow night at the studio. The mannequins were looking a little disheveled, so we dug into the vintage clothes stash and gave them a makeover.
Some were in need of hair, some arms and hands. We have a big stash of both in a box, but it's not easy to figure out which arm goes to which body, if you haven't kept it all organized.
Meanwhile, I was also trying to figure out my Foundry Art Centre talk for tomorrow. What a concidence – both events on the same day. And only 221 miles apart. Lots of driving will be involved.
I had hoped to use the same talk that I gave at the ArtSpace [Untitled] gallery in July, but as I tried to cut the number of images (and talk time) in half, I began to realize that I wanted to include a lot of stories specific to the Foundry, Quilt National, and St. Louis.
So now it is a completely different talk, and I hope a better one. I have a new opening joke at least! And if you haven't already seen it, here's a video by Kristin Hare of the St. Louis Beacon about Quilt National 2009 at the Foundry.