I was joking on Twitter the other day:
Time to put on my cape and become Super Organized Person.
I had been stressing out all week, because two big events had be scheduled for the same day. And they were 221 miles apart.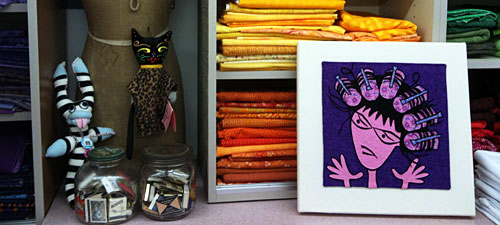 Months before I had promised to speak at a new series at the Foundry Art Centre for their new "Luncheon with the Artist" series that also kicked off Quilt National 2009 month. They gave me the choice of three dates, so I picked October 8.
Last spring we had also promised to host a big event at the studio for a band of Lady Mariachis who would be traveling from our sister city in Mexico to perform in downtown Springfield for Cinco de Mayo. But that trip got canceled due to the outbreak of the H1N1 flu.
So the trip and ArtsFiesta! in Founder's Park was rescheduled for fall. Because of the extensive performing schedule of the band, there was only one date available for the promised welcome party. October 8.
I can do this, we can do this – just takes a little planning and early prep, right? But as usual, we were busy, things didn't get planned early enough. There were visa and plane reservation problems for the traveling group, so it seemed easy to put off decisions about food and sending out invitations, etc.
Then the week arrived, and I wasn't ready. So the Twitter joke. The rest of the story has two parts.
Part One: The Cape Worked
Somehow that visualization empowered me. Two days before I got busy and found some creative food ideas. Colorful whole fruits that didn't have to be cut up, we could just plate at the last minute — have you heard of kiwi berries and sugar pears? me either, but they are good.
A place that would make spicy chicken, sundried tortilla wraps, and eggplant-mozzarella rolls that I could pick up at 5 p.m. (Sam's!) Bought the wine, tequila and flowers there the day before when I ordered the food.
Edited down my keynote gallery presentation from one hour down to 20 minutes as the Foundry has suggested, and thought of a new way to tell my quilt stories backwards (more on that later.)
So I was set, I was super-organized.
Part Two: The Cape didn't Work
That morning I had trouble getting out the door, as usual. Turned out my math is so bad, I could still get there on time. But halfway there, it started to pour.
Got to the Foundry, set up the projector and tested my images. Took a quick tour of Quilt National 09 — fantastic, but sorry I didn't have more time to do it justice. I was nervous at first, face with a room full of 50-60 people looking up at me, but was happy that family and friends had also made the trip.
The twenty-minute talk turned into 50, there was a lot of discussion about the QN exhibit, and I left the Foundry on time. On my return trip, the rain was worse, and St. Louis was a mess of traffic and blinding clouds of water.  Driving past a couple of wreaks was bad enough, but it was unnerving when the National Guard was working the third, and traffic slowed to a creep. I kept hearing reports on the radio of flooding through the area and other roads closed because of accidents.
I knew that this point I wasn't going to make it home in time and worried about making it at all — so I called Russ. My hero! He was done setting his neon sculptures early and could go to Sam's to get the food. The day before Carla had agreed to come early to do flowers and fruit, Kay and Tom to pick up the cake and set the buffet.
So even if I didn't make it back in time, the party would be okay. I could concentrate on driving more slowly, safely, and making it home with out having a wreak. I got back about an hour before the event and was happy to see everything going smoothly. The studio looked beautiful, new art installed, the Garbano's arriving for their wild entertainment. Heck, the party was already populated by the many mannequins we had re-dressed the day before!
Part Three: What I Learned
Visualize yourself as a Super-Organized person. It really works. Just tell yourself you can do it, because you can. But don't forget that things happen, weather happens, fate happens, and you can't control it all. So hold your family and friends close, lean on them when you need to, and be glad when they let you.