Not the kind of place you'd expect to attend a Slam Poetry workshop – a little historic Baptist church with vintage neon sign. But the Missouri Literary Festival hosted many events over three days, in a variety of places, and this little church on the edge of campus was saved by Drury University and renamed the Diversity Center.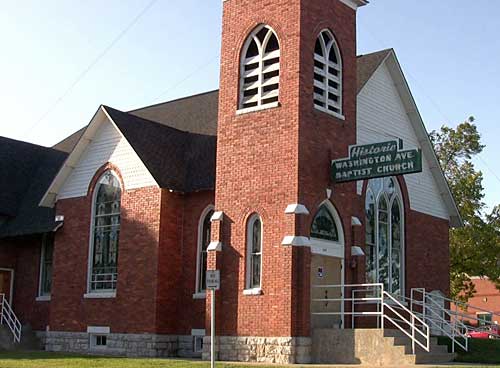 I went to the workshop, not knowing anything about it. I was intrigued by the title and thought it might be fun to videotape. I've been spending a lot of my creative time this month working with video. I'm better at editing than shooting, so I need the practice. Russ is the great photographer and techie in the family.
In the 90's we did a lot of video work – documentary type stuff — and am now finding how much fun it is to upload and share videos via our new YouTube channel as compared to having to dupe tapes, design packaging, and figure out how to distribute them. I love video, it's total immersion into a world of thousands of trillions of single photographic moments smashed together and find myself getting lost in it. But back to poetry.
The workshop was great, amazing — maybe partly because of the environment of the church and the beautiful light that filtered that afternoon through the large stained glass windows. But most definitely because of Joaquín Zihuatanejo. I found out later that he's really famous – 2008 Individual World Poetry Slam Champion, 2009 World Cup of Poetry Slam Champion.
And so kind and generous – with his talent, his spirit, his desire to teach and to share ideas. I made three short videos from the one-hour workshop. This overview of Slam Poetry has pretty much what I think are some universal truths for all art.
The keynote speaker for the MO Literary Festival was Billy Collins, two-time Poet Laureate for the United States. I was pretty excited about hearing him. I thought I was a fan, but he pretty much lost me when he said that all poetry is about death and that someone should tell English majors that when they are starting out.
I was an English major — no one ever told me that, and I wouldn't have believed them if they did. I've always thought that poetry and art were about life, so I'm happy to post this other video of Joaquín Zihuatanejo. He pretty much sums it up in a short minute.