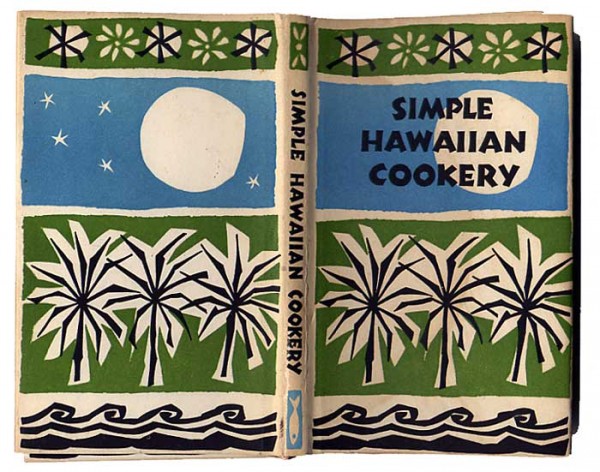 It's that time of year (and rare) when I drag out all the cookbooks and pore over them. This Hawaiian cookbook is a little gem that I inherited. It's only about 4″ x 7″ so it's sweet to hold. The book was published by Peter Pauper Press in the 60's with "decorations" (I assume the mean the beautiful wood-block print illustrations) by Ruth McCrea.  I love her simple forms and use of only three colors, leaving the background of the paper bare to make the fourth color. I've collected an assortment of retro cooking-related graphics (one story here) that I look at for inspiration, you can see some of them in my Flickr set (click thumbnails to enlarge.)
"Friendship feeds the soul
As food nourishes body,
Food for both are here."
from the Richmond-Shimada Sister Cities Friendship Cookbook
Recently I was giving a First and Calvary cookbook for my birthday. The cookbook committee had smartly put an index by author in the back, and soon I realized it was great fun to look up people I know and compare their personality to their recipes.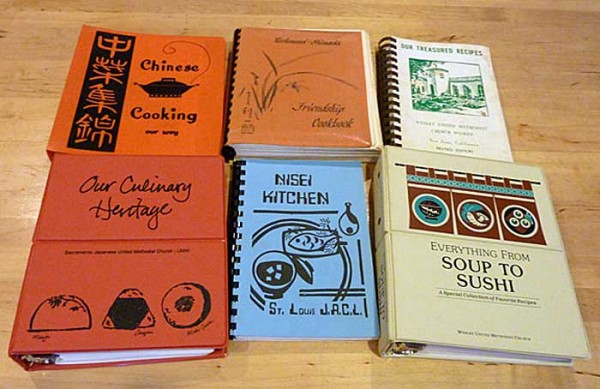 I have several vintage church and community cookbooks, some added from my grandmother's collection after she passed. I especially like the west coast ones that usually have large, some almost half the book, Asian and Japanese sections.
The small green one is the most stained. "Our Treasured Recipes" from the Wesley United Methodist San Jose Church is one of my favorites, and where I learned many mochi and manju (Japanese sweet bean cakes) recipes when I decided to learn to cook something not easily found in the Midwest —  breaking my general rule of thumb to not cook recipes with more ingredients or instructions than will fit on a 3″ x 5″ card.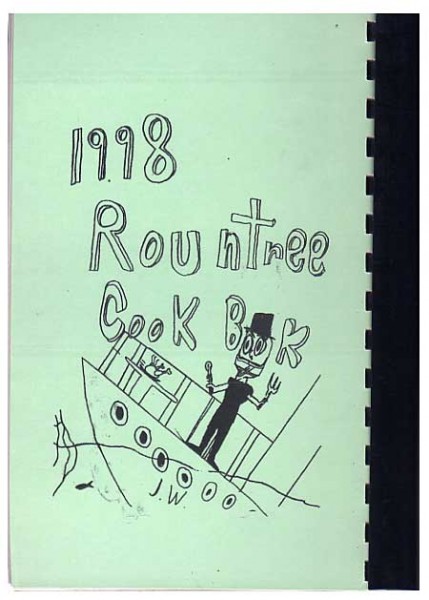 Most of these cookbooks were designed with a typewriter (remember those?) and it's fun to see the name of the person and their style of instructions. Sometimes I find notes someone has handwritten into the margins, or an auxiliary recipe or clipping tucked in between pages. Do you have any old dog-eared, coffee-stained, and beloved cookbooks that you pull out every year?
p.s. Just found this old school cookbook from the neighborhood and had to add the back cover. I wish I knew who J.W. was, because I really love his/her? drawing — looks like someone's making a turkey on the Titanic!