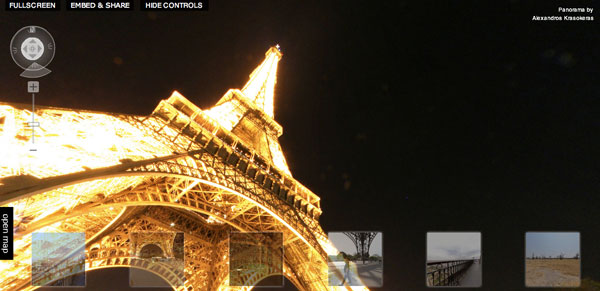 This morning I spent some time in Paris looking at the Fashion Museum and Eiffel Tower, in Tokyo looking at cherries blossoms in a park, and a panorama of Prague. You can too by visiting 360cities.net.
Be sure to go fullscreen if you can. Some of the scenes move on their own, other you click and drag your mouse to move around. You can go to the world map view to pick where in the world you want to see!

Eiffel Tower – Night View from Tower Base in Paris
Update: I was just touring the Syndey Opera House on 360cities, when it suddenly occurred to me that I could use these panorama views for research and inspiration. While I was drawing and making my Sydey: Wish You Were Hair quilt, I used some of our old photos and memories of the place to decide what to include in the composition.

Sydney Opera House and Darling Harbour Bridge with Water Taxi in Australia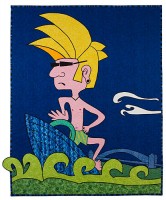 But experiencing this panorama could have given me some different viewpoints and details of the scene.  Also I sometimes hear other artists wanting to use others photos for source material for art, I don't really incorporate other's photos in my work. But I do study them for details and features of interest to later draw in my own style and perspective.
Do you use reference materials when you're making art? Or do you just make it all up as you go along?