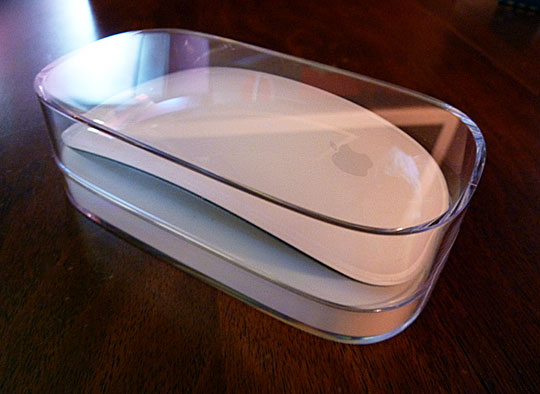 A really cool gift this year just arrived late this weekend. A Magic Mouse — in its own specially formed clear plastic case.
I don't know why it instantly reminded me of Cinderella's clear glass slipper and at the same time, Sleeping Beauty in a perfect clear casket. Too much coffee maybe?
But wait! Wasn't it one bite of the apple that sent Sleeping Beauty into her deep sleep? And weren't both stories animated by the magic Mouse kingdom. But these weird associations kind of fall apart after that.
The Magic Mouse is a new Mac bluetooth wireless mouse that is truly amazing. It has a smooth top, no buttons, no wires. Yet the solid surface top can recognize clicks, double-clicks, right clicks, and when you brush your fingers lightly over the surface, you can scroll up and down web pages and even scroll backwards and forward through your browser's history of pages.