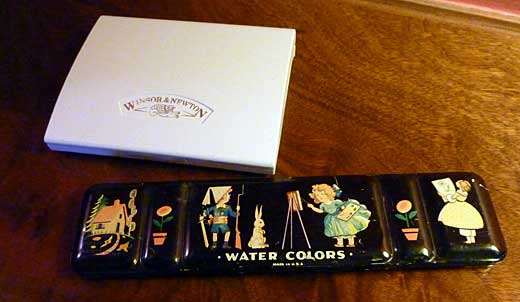 Here's a fun little project using watercolor paints. I bought a traveler's water color set last year made by Winsor & Newton. The paints are good, but I hated the box — it was all plastic, too fat, and yet there was no real room inside for anything but the half-paint pans, which although were form fitted in more plastic, still always stuck to the lid when I opened the box.
The vintage paint box below is one I found somewhere (probably Ebay). Since it came to me empty of contents, I had been using it to carry paint brushes.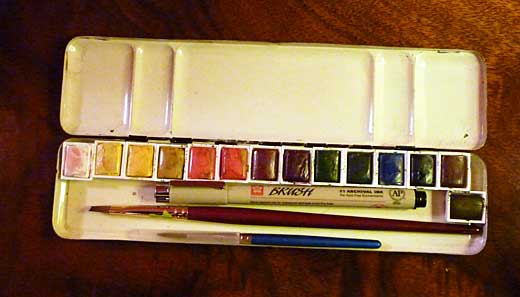 So I took the Winsor Newton paints out of the plastic box and put them into the vintage tin. And there's still room for a real size paint brush and a pen! The paints slid around though when I tried to wet them, so I used a hot glue gun to stick them in place. Russ, the glue gun pro in the house, told me I needed to warm the metal of the box first, for the hot glue to really stick.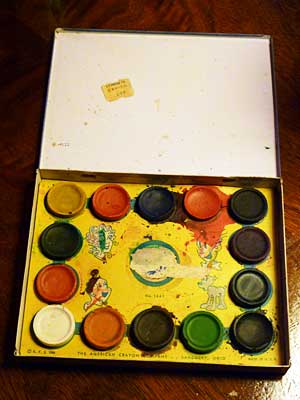 So actually he warmed the tin over the stove, then the glue gun worked it's magic.
Now I can even add some colors to the palette — I think I'd like to add a few more, and you can order or buy the little pans of paint from online or good art stores.
Here's another vintage box I thought about using, but the corners are too sharp, and the shape is wrong. I like the long paint box because it's flatter and about the same length as my moleskein sketchbook, so they are easy to stack together and slide into my purse.
It's still cute though, and look inside — it only cost $.29 at S.S. Kresge Co. back in who knows when!