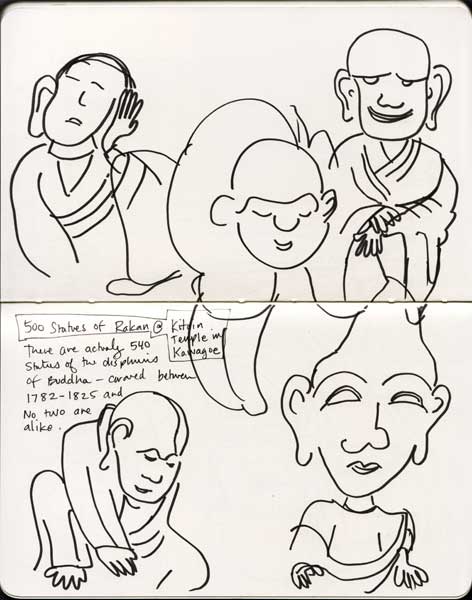 Here's some pages from my Japan sketchbook. At the Kitain Temple in Kawagoe, there is a small plot of land with rows and rows of Buddhist monks, carved from stone between 1782 and 1825. A note on the guide sheet said no two are alike. It's not just that the statues are all different – it's that each one has such distinctive personality, each one was doing something different or expressing a different emotion.
Some were laughing, some crying, some sleeping, fishing, praying, planting…. They were difficult to photograph because the area was dark and shady, the statues broken and covered in moss. So I started drawing. I wish I could have stayed longer and drawn more, but it have would taken a long time to draw 540.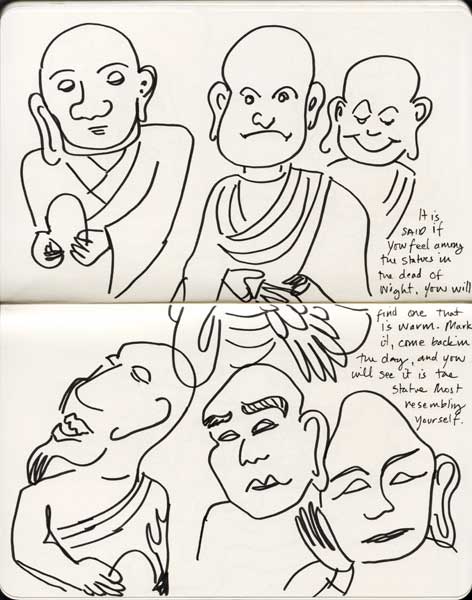 If you can't read the writing, it is a legend I copied from the guide paper that they hand out at the information desk. Our Japanese friend Kazuko said the legend wasn't in the Japanese version of the guidebook.  So I don't know where the legend came from, but I still like it.
"It is said, if you feel among the statues in the dead of night, you will find one that feels warm. Mark it and return in the day, and you will find it is the one most resembling yourself."
I haven't posted many photos of Japan, since I've given all those to Russ to organize with the thousand he took. But I've been studying the stone monks because they have become part of project I'm drawing, except instead of stone plants and baskets, my monks are holding cell phone and kindles. These photos aren't very good (Russ has much better ones) but they give you an idea of the place.
Here's another drawing from the museum of the Third Shogun which was near the stone monks. You couldn't take photos in there at all, but I wanted to draw these things after I found out what they are.
Farm tools?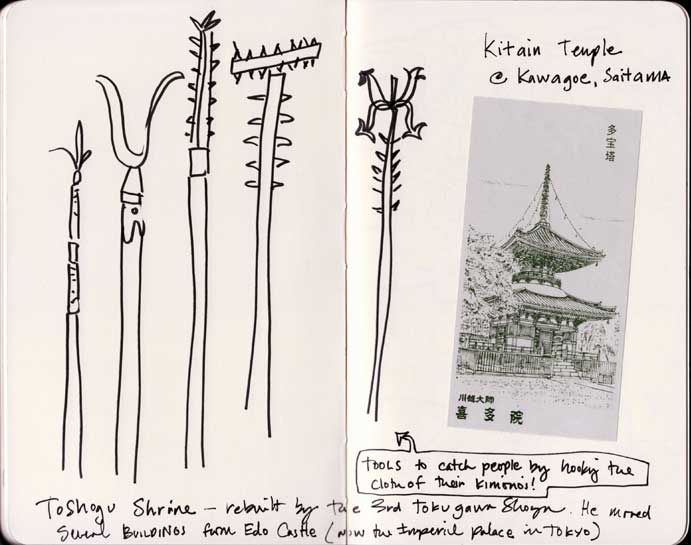 no
Torture devices?
no.
They were used when chasing people to catch onto their kimonos so they couldn't run away.