Last weekend Fiberart International 2010 opened in Pittsburgh at two venues – the Pittsburgh Center for the Arts and the Society for Contemporary Craft. The show will be on exhibit April 17 – August 22, 2010, then travel to the Memorial Art Gallery of the University of Rochester and the San Francisco Museum of Craft + Design.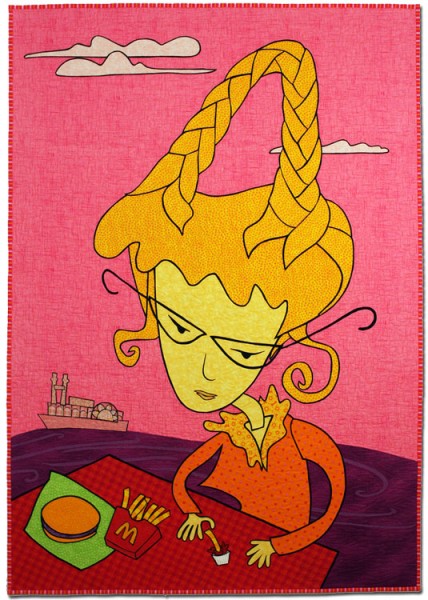 I really wanted to go to the opening weekend – the exhibition features best in contemporary fiber art worldwide — jurors Mary Ruth Smith an art professor from Baylor University in Waco, Texas, Rebecca A.T. Stevens, a consulting curator for contemporary textiles at the Textile Museum in Washington, D.C., and Danish textile designer Vibeke Riisberg, an associate professor at the Designskolen Kolding — selected 87 works from over 1.685 entries submitted from 30 countries around the world.
From articles in the Pittsburgh Post-Gazette and Pittsburgh Tribune-Review and postings on Twitter and Facebook, I know that many of the artists, even one from South America, traveled to Pittsburgh for the opening and fiberart forum that was hosted the next day. Another Chinese artist tried to bring his work, but was denied a visa, so he had to ship the work instead.
My quilt "St. Louis – Wish You Were Hair" is part of the current exhibition. In 2007, "The Vintage Purse" was part of Fiberart International 2007, but I wasn't able to make it that exhibition either.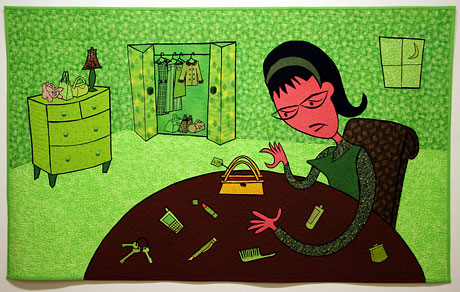 The Fiberarts Guild of Pittsburgh does a terrific job of organizing the shows, publicity, and printed exhibition catalogs, but it's not the same as being there. Someday I hope to make it back to Pittsburgh to see one of these shows!