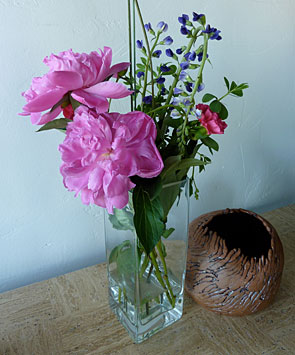 There's a little flower shop called "Blossoms" right on the way to the studio. I stopped there for the first time the day of the mariachi party last Monday, to get some things for fresh flower bouquets for the bar, buffet and restrooms.
Surprisingly I found big sewing machines in the back, behind the flowers, and then realized that there is an upholstery shop in the same place, run by the same woman.
There are so many flowers blooming in our yard right now, but it's nice to be able to stop at the flower shop and pick out a few things to add into arrangements.
Here's a few other odd things sitting in the front lobby of the studio today. The little wooden man is a working maquette for the 23′ tall Kinetic Man by Russ, and I made the ceramic pots a long time ago.  It's nice being surrounded by art, but there also something wonderful about fresh flowers.