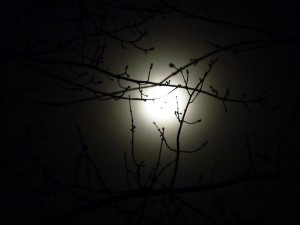 Last night we got up at 2 am to watch the lunar eclipse on the winter solstice. It was a crisp night and the moon was positioned perfectly for watch everything right from our back deck – nice of the universe to put on such a spectacular show with front row seats, no charge. Lots of tea and hot chocolate made it better. Mochi was crazy about getting up in the middle of the night and running around the yard.
As the earth passed between the sun and the moon, the moon turned a strange color of orange. Russ got some amazing photos with his camera and tripod, but I can't really take good moon photos with my camera.
So I took a different kind of photo towards the end of the event of moonlight through winter branches. There's something about cold winter air, leafless branches, and moonlight that gives me a sense of stillness and clarity of thought.