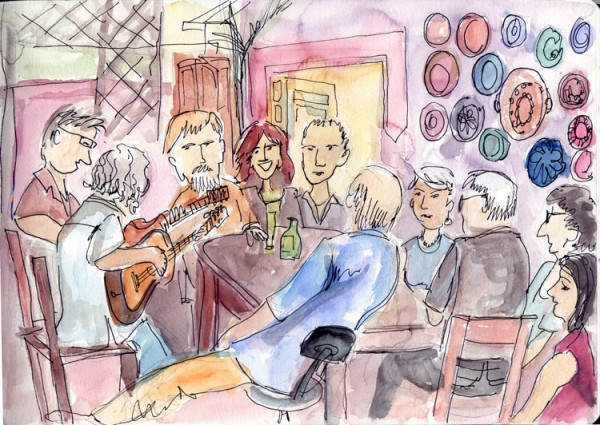 I've had The Tao of Sketching for a couple of years, but packing it along on a recent trip to Mexico was a great opportunity to truly study the book. Chinese artist Qu Lei Lei covers using a wide of variety of media and subject matter. Here's a good review of the book by artist and writer Katherine Tyrrell on Making a Mark blog. I especially like this quote she highlights:
Successful sketching depends on two distinct elements to be combined: the understanding of how each medium works and the ability to measure the amount of time you have available against the scene you want to record.
Qu Lei Lei – techniques
The samples of his own sketches drawn in many countries around the world are a delight to study, and the included demonstrations are not meant to copied, but to illustrate how the reader might approach their own subject matter and draw from the heart.
As I read his "Beijing Breakfast" chapter about drawing groups of people who are constantly in motion, it all seemed simple enough. Just draw one person, then another and another…then finally the background and furniture because that doesn't move. But it really is a great challenge to do in real life.
Here are couple of my attempts during our trip. In "Lunch at Paco's" I tried to capture the feeling of a group of people gathered around a table, listening to songs, and the colorful ceramic plates on the wall of Paco's house. I sketched first in pencil, then watercolor washes, and last added the ink pen details. It probably took about 45 minutes.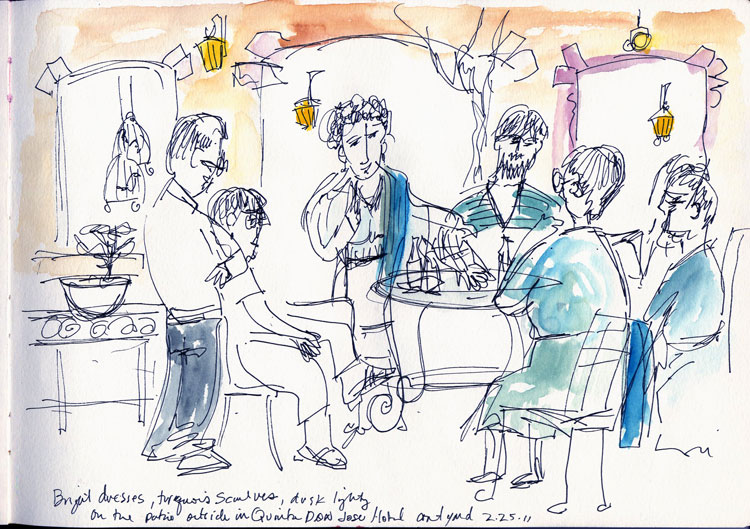 I had less time for "Quinta Patio Evening" and so used pen first, then only suggested a few colors with watercolor wash. As Qu Lei Lei suggested, I wrote a few notes about the scene at the bottom of the page to remind myself of colors and mood at the bottom of the sketch.