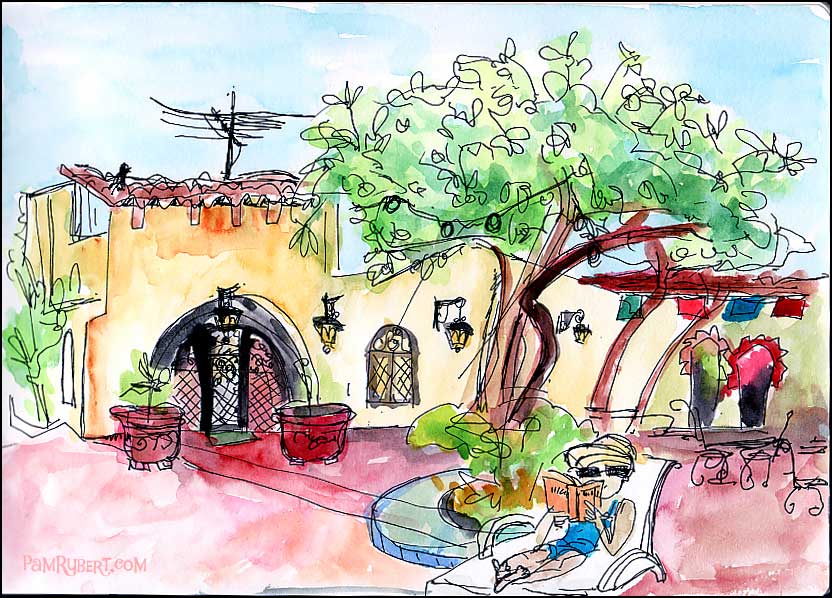 Kerry wrote me, "my friends and I took a brief online course with Jane LaFazio...about sketching/watercoloring in public…we did just fine…most probably because there is safety in numbers…your recent sketches have all been in situations where you were known…do you feel more pressure when sketching around people who know you vs people who have no clue who you are?"
I feel a lot of pressure drawing where people know me, because they want to see what I'm doing and there seems to be some expectation for the outcome. I guess I also have to fight my own exceptions as to outcome, especially if I'm just trying to experiment with new techniques or just try to get better at sketching.
When people know me…
When I am with people I know, I try to be sort of casual. I don't start drawing right away. I watch the scene for a while. Then I pull a sketchbook out my purse and look through it, all the while watching for something to draw and thinking of a composition or what the mood feels like. A little later I get out a pen and start drawing. In the end people still notice, but if you do it often enough, I guess they get used to it and excuse you, kind of like they excuse or humor their friend who's always texting or Harriet the Spy, who was always writing notes in her journal.
As a stranger…
When I'm a stranger somewhere,  I usually try to pick a place where I'm kind of hidden or not easily observed. I like that better because most people are afraid to approach a stranger and ask to see what they are working on.
At the same time, I think you have to be careful about their feelings because people don't really like strangers staring at them, so I try not to be intrusive. It may be better to pick someplace were there's a lot of activity that attracts most of the attention away from you. I also like drawing people from the back or side so they can't see me.
I read one artist who said just pick a comfortable place to sit – it may have been Robert Genn of the Painters Keys, because he said then you can always look around and find an interesting scene once you find your place to sit.
Sketching someone by the pool
For the drawing above, I was sitting by a pool and wanted to draw the woman reading, but I figured most people wouldn't want to be drawn in their bathing suit. So I started with the building and the tree behind her. That way it didn't look like I was staring at her. I sketched her sitting in the chair reading a book at the very end, but I had allowed room for that on the page because that was the whole purpose of the drawing. In the end I was happy with the result because doing the entire scene instead of just the woman alone gave a sense of atmosphere of the afternoon.
A good place to see lot of nice drawings that people have done in public is Urban Sketchers. Artists all around the world contribute to this site, and there are also links to their personal blogs and flickr sites.