Fiberart International 2010 opens at the Memorial Art Gallery in Rochester, NY this Friday, and I'm sorry I won't be there. Well, I will, sort of — by phone.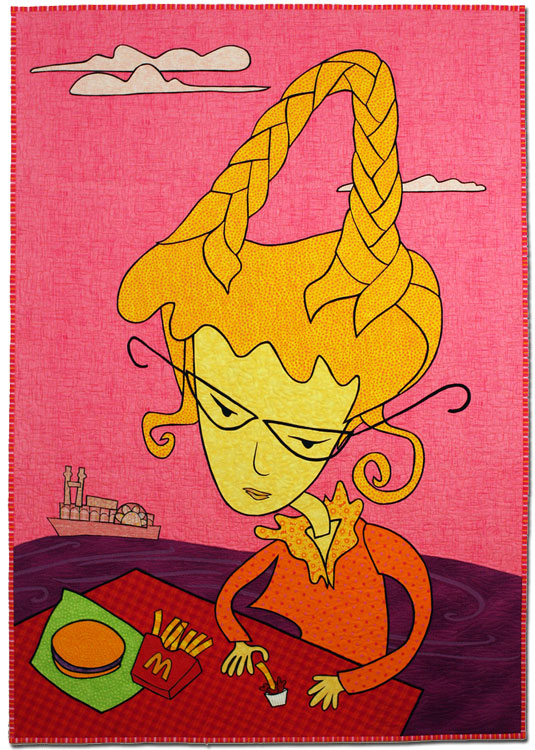 Last month the Curator of Education for the gallery, Marlene Hamann-Whitmore sent a request to all the participating artists to call into a system that records a short message. During the exhibition, visitors to the gallery will be able to dial numbers on their cell phones and listen to each recording as they stand by the artist's work.
Since we had to keep our message between 30-60 seconds long, I think it would qualify for an "elevator speech." Here's mine (we also had to provide a written transcript for the hearing-impaired):
"Hello, my name is Pam RuBert and my quilt is called "St. Louis – Wish You Were Hair."
This is part of a series of quilts and drawings in which I morphed the idea of vintage post cards titled "Wish you Were Here" that people used to send from vacations to folks back home into crazy hairstyles that look like famous world landmarks.
While this may seem like a weird idea, I believe the true power of art is the ability to take us to new or unexpected places, to stretch our imagination or to tickle our memories.
As I stitch my quilts for hours at a time, the thread travels the surface, adds structure and texture, and is tied to thoughts, memories and dreams.
I was born in St. Louis and have nostalgic memories of visiting the St. Louis Arch and eating at the only floating McDonald's in the world. It was on a river boat under the Arch and I made striped french fries and a purple hamburger as tribute to my "golden arches" meal."
The show will be up at the Memorial Art Gallery from May 1–July 3, 2011, then will move to San Francisco Museum of Craft + Design, October 13, 2011 ­- January 15, 2012. It's sounds like Rochester's hosting quite a few fiberart related exhibitions through this spring and summer, so check out the MAG's Fiber in Rochester webpage.
A side note: It's sad news about all the damage and destruction that occurred over last weekend when a tornado hit St. Louis. But fortunately no one was killed, and all our friends and family are okay.