On a street corner outside a noisy concert, a friend pulled out her phone to make a call. I was shocked to see the front of her phone was shattered, yet she was still using it. When I asked, she started screaming at me.
"It's just so easy to use this one. I have a brand new iPhone 4 at the office, and I just can't bring myself to switch over. I just can't deal with all this new stuff, having to keep up with the latest thing. I just can't deal with it."
I had to laugh because that was exactly what my last quilt was about — feeling underwater, struggling to keep up with the latest thing, and so many new tech devices, toys, and software being continually presented to me that I'm not sure where to direct my distracted attention.
Usually it's not hard for me to title my work. The title is usually in my mind from the very beginning. But in this case, it was just a feeling I had and no words came to mind. I just drew.
An octopus.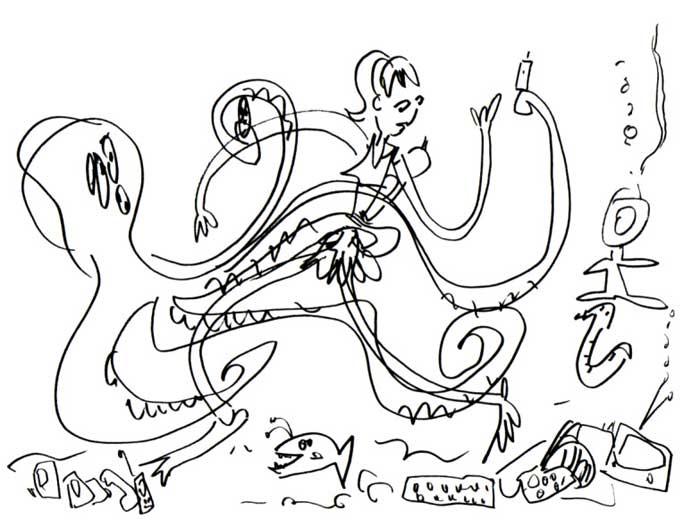 Lots of them. Then I became a little obsessed with octopi, as I usually do when working on a project. Big ones, spotty ones, happy one. Looking at more photos of real octopi, I was amazed at the wide range of colors and patterns, the way their tentacles make such beautiful lines in the water.
I found this photo from our trip to Japan last year, and it reinvigorated my interest in drawing.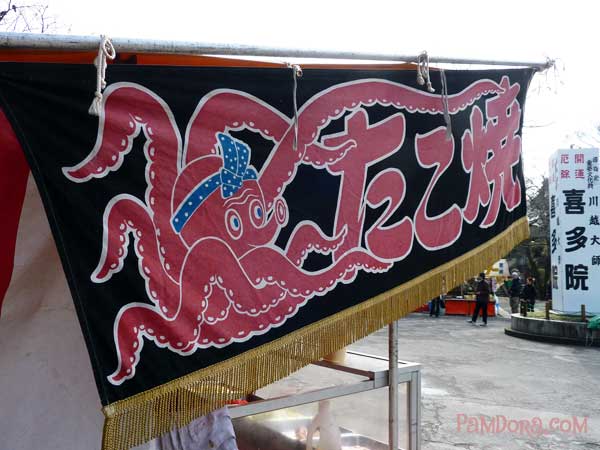 Randomly searching the internet, this image of an Austin-based band The Octopus Project came up and when I saw their electrical outlet heads, it made me wonder if I should draw the octopus with outlets instead of suction cups on his tentacles. (tried it later – no, too complicated)
It's funny how when we are focused on something, the universe seems to drop little clues for us to follow. About that time Paul, the World Cup predicting octopus became popular. Then I heard this Beatles song playing on the radio and couldn't get the tune out of my head for a week:
"I'd like to be under the sea
In an octopus' garden in the shade…
We would be warm below the storm
In our little hideaway beneath the waves
Resting our head on the sea bed
In an octopus' garden near a cave…"
Since the octopus was going to be handing, or rather tentacling me, a lot of high-tech devices, I decided to make him smart. I put a college t-shirt on him.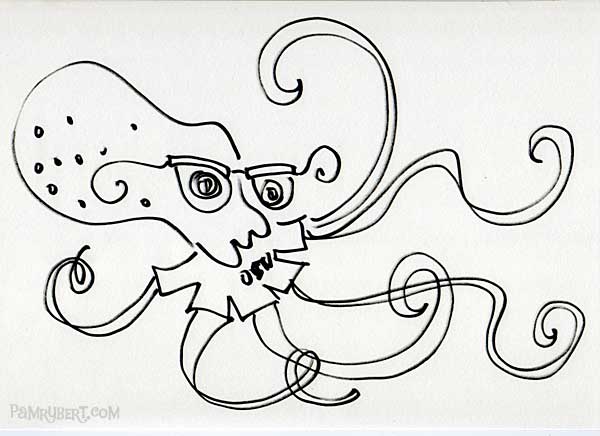 Next I started looking at old computers, phones, and electronic toys to line the bottom of the ocean bed – the "octopus' garden." Russ happened to walk into the studio one morning with this Prehistoric Laptop and I wrote a blog post.
Looking at photos of old swimsuits, snorkeling gear, and flipper feet was fun. I found some in this retro Jamese Bond Thunderball poster, but I wasn't interested in the spear gun.
Here's how all this crazy stuff finally starts to come together on my drawing wall inside my computer.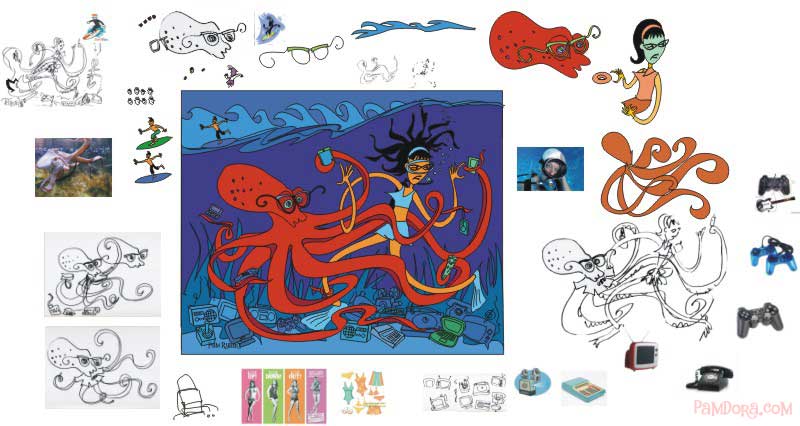 Tomorrow I'll post photos of making this in fabric, because I need help thinking up a good title.
update: here's the second post about this project: Occupied with Octopi, part two