Or perhaps I should have said, Preoccupied with Octopi. This is the second of two blog posts about making a big quilt featuring PaMdora and an octopus. The first one is Occupied by Octopi, part one.
Part Two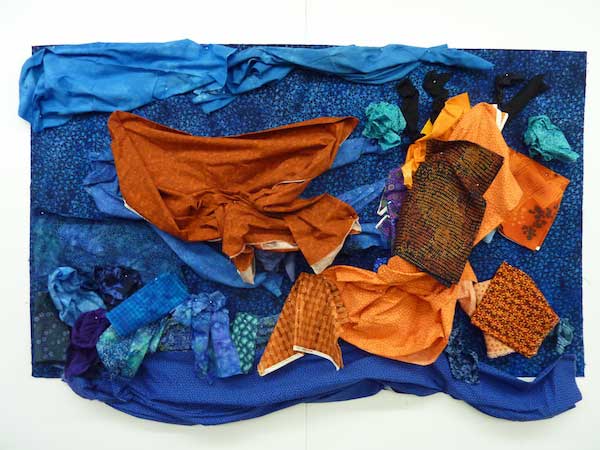 While I'm working on a drawing of my idea, I am also going through my collection of fabric developing a palette. Sometimes I just throw fabrics on the floor, but eventually I may pin wads of fabric to the design wall. In this case, I want the octopus to glow from a dark background. If the abstract pattern and palette looks good, I feel I have a good backbone on which to build the final piece.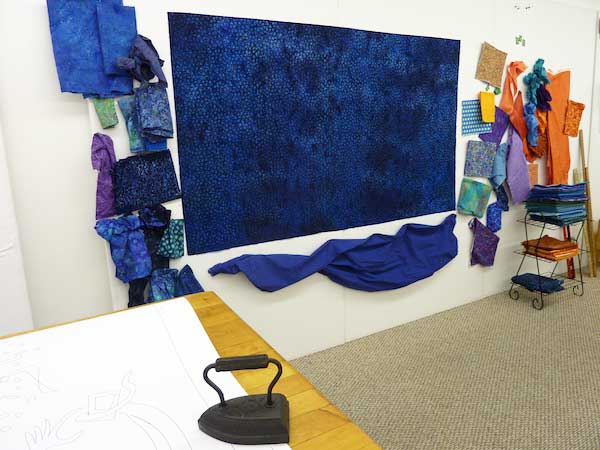 The way I work on the design wall is similar to how I work on the computer. I pin all my reference sources around the edges of my work space.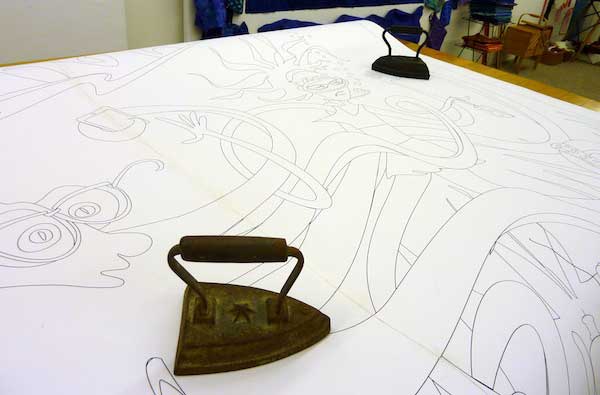 This is the pattern that I've printed from my drawing. I used to tile dozens of 8.5 x 11 pieces of paper and tape them together to make patterns. Now we have  a large format printer, but this design still took two tiles. Since big patterns tend to slip off my cutting table, I like to use old irons to hold them in place.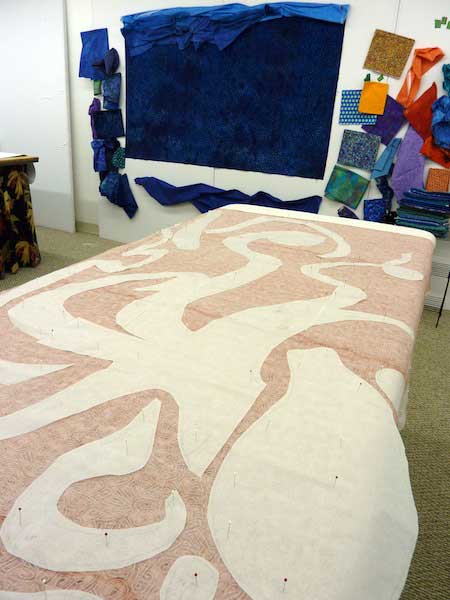 The octopus needs a lot of fabric, so I have to careful I'm not going to run out. It took a lot of fiddling with the patterns  to get it all to fit. You can see I'm playing around with colors for water in the background.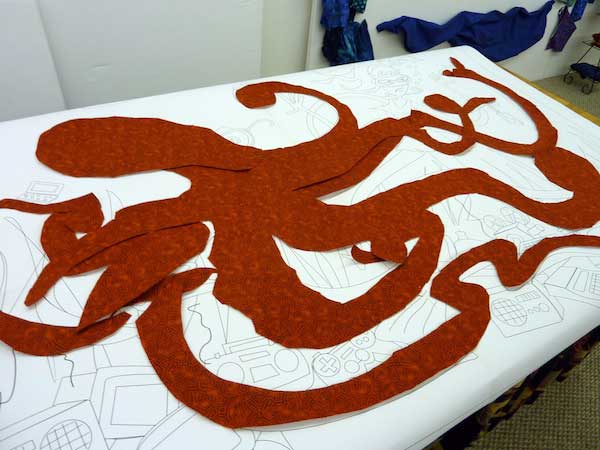 Just trying to make sure that I've got all eight tentacles covered! I did write one blog post about cutting this monster. It took me three days.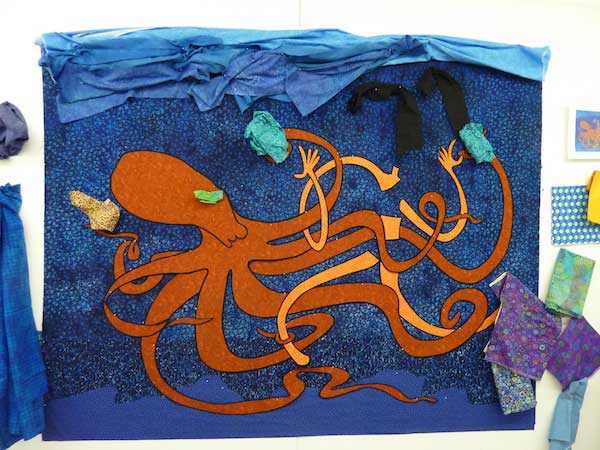 Like working a painting, I'm trying to keep the entire surface in mind. Each color choice affects every other part, so I'm just pinning things together and nothing is permanent. As I cut and pin, I also am constantly thinking about how I'm going to sew this monster together. Because of the many layers, it's going to be technically difficult to quilt.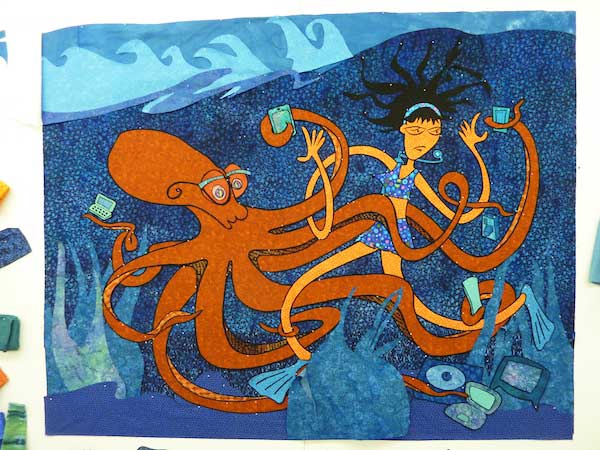 Starting to add the digital toys. Even though they are small, I want them to pop out to the viewer, so I'm using bright bits of turquoise. I'm also improvising waves at the top and sea grass at the bottom, and added that blue polka dot rock bed at the bottom to give myself a little more space to work.
Because I got in a hurry to finish this quilt, I didn't take any photo of sewing the details. I usually sew the faces and small details on a Bernina sewing machine because I like the control it gives me. You can see me sewing another big quilt on my Bernina here.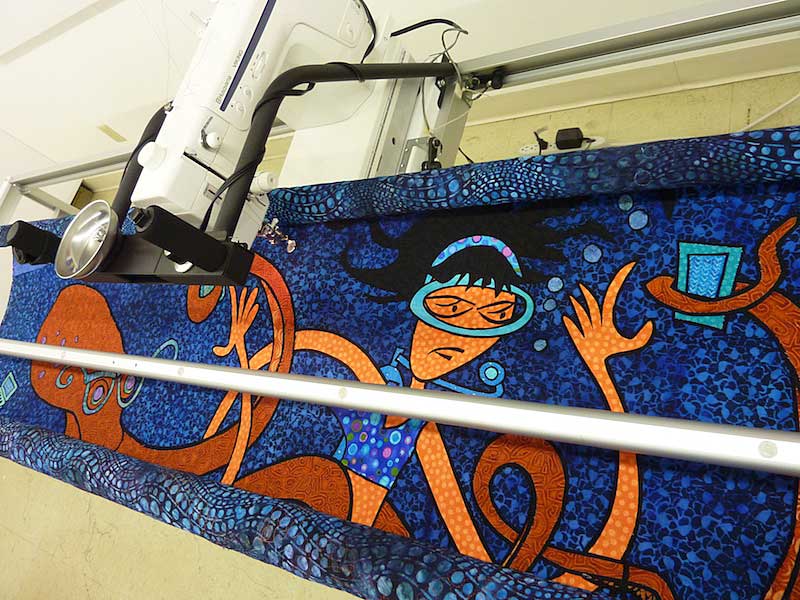 After getting the octopus, PaMdora, and the digital toys sewn, I moved to a frame to finish the background with my Viking sewing machine.
This was one of the hardest pieces I've ever quilted. Because of the many layers and intertwining parts, I had to really concentrate and plan my method of attack to keep it flat. It may have turned out a little too flat — I would have liked a little more texture in the background, but we learn something from every project we do!
Looking back on the project, I realize it was challenging, but also lot of fun. I like making things like computers, old TVs and remote controls out of crazy patterned fabrics.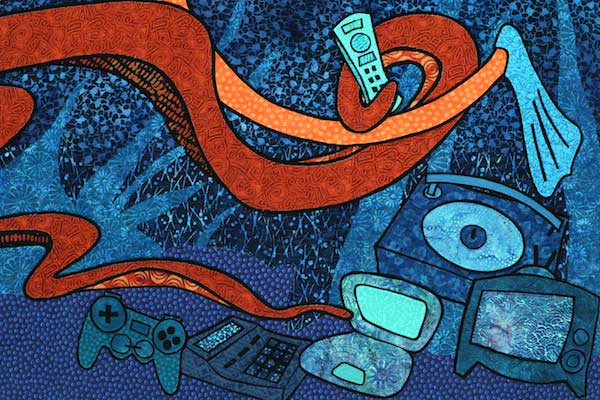 I barely finished this quilt in time to take photos and submit it to Quilt National. At the time I called it "Dancing with an Octopus" because I was in a hurry and needed a title. Since QN is strict about pre-exhibition photos on the internet, I never put any of this on my blog or website. By the time I found out this quilt wasn't accepted, I had moved on to other projects.
The other day I realized I still haven't put the final image on my website. Maybe one reason is I never really felt that title was right. Over the years, there have been so many great comments posted on PaMdora's Box, and I get ideas and inspiration from all the input. So maybe you can help me out again. And thanks, all you readers who have stuck with me all these years — I really appreciate it!
Here's the first post about this project: Occupied with Octopi, part one