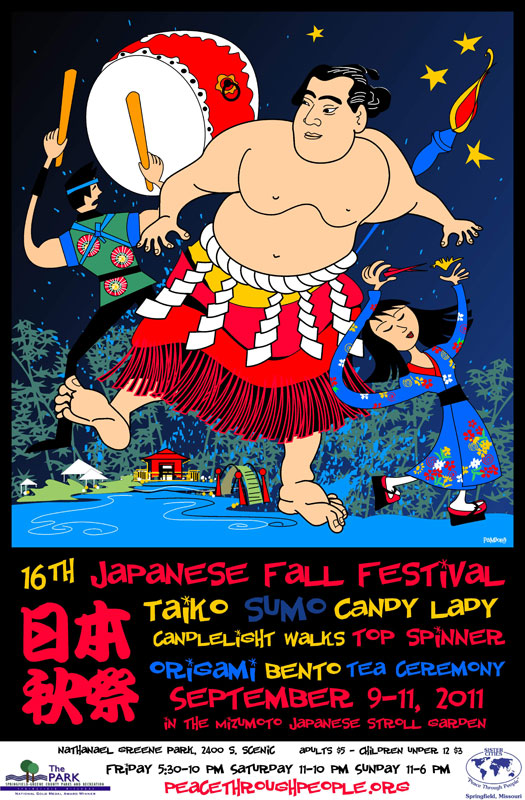 It's the time of year that I sometimes work on art for the Japanese Fall Festival. I don't do it every year, but over the past decade have designed many posters and t-shirts, so looking back through my files, you can see sort of a snapshot progression.
I often return to Japanese wood-block prints from around the 1800's for inspiration. There I often find originality of compositions and stylization of forms of nature that I need to reinvigorate my work. I love the way flat shapes are filled with complex patterns, and depth inside the picture frame is created not through shading, but by scale, color and composition. I also like the way images seem frozen in a moment of time, and yet at the same time tell a story by selective use of people, objects, and landscapes.
Another interesting aspect of this annual festival is that making outdoor banners for the event is kind of how I got started making fiber art and art quilts. I was trying to come up a with a way to make big outdoor banners — not signs – but vertical banners that would hang from posts — so I started experimenting with kite materials that could survive outdoor weather.
This was about 15 years ago, and they are still used every year at the festival. In the photo above that Russ took last year, you can only see the backs. The fronts are more colorful because they are appliqued color layers edged with black satin stitching. The black kanji above the figures was painted by a famous Japanese calligrapher who was visiting Springfield, and so I left room for him to paint in whatever characters he wanted, then we heat-set the paint with an iron.