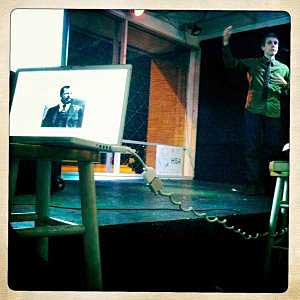 Over the years we've hosted many events at our studio, but this is the first one that most people I meet have trouble pronouncing. I started saying it just like it looks and am slowly working up to Peh-Chuk-Cha.
The name PechaKucha comes from the Japanese term for the sound of "chit chat." PechaKucha Night started in Tokyo as an event for young designers to meet, network, and show their work in public and now has similar events happening in cities around the world. Presenters are allowed to show 20 images, with 20 seconds per image. This totals 6 minutes and 40 seconds per person, which makes for an upbeat tempo and allows the audience the chance to see wide variety of creative presentations in one evening.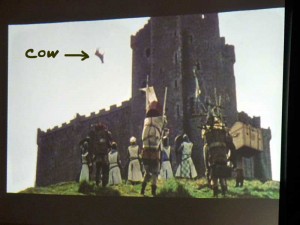 PechaKucha Springfield was organized in Spring 2011 by Amanda Taylor of Dake Wells Architecture, meets quarterly, and previous events have been hosted at Lindbergs, Lemondrop, and Historic Firehouse #2.
The one I attended at Lemondrop was a lot of fun and touched on topics of art, history, architecture, film-making, the irony of yearbook signing, with an occasional cow thrown in.
Friday, September 23 from 7-9 p.m. at RuBert Studios

PechaKucha #4 we are hosting is open to art and design fans, and we have several artists scheduled including Stephanie Cramer, Kat Allie, Carla Stine, Brandon Dake, and some surprise guests. Doors will open at 6:30 if you'd like to walk around the studio, or have a glass of wine at the Tiki bar. If you'd be interested in presenting, Amanda may have a couple of slots left.
The event is a fund-raiser for the AIA Springfield to help with master-planning to rebuild Joplin, MO after a terrible tornado destroyed its center city last June, so we are asking for a minimum $5 to help with Joplin's rebuilding process.
Some Past studio events
Although our studio is not normally open to the public, usually about once or twice a year we host events for non-profits with an art or art education emphasis. One of the more intensive but fun projects was a series that I call the Monster Foam workshops for Drury University art foundation students with art professors Todd Lowery and Tom Parker, using mountains of foam collected by Russ RuBert.
Another was a series of First Thursday artist discussion forums with featured speakers. But most have been one-night receptions for the Mid-America Art Alliance or group tours for Kansas City Art Institute students or the Missouri Art Education Association. Here's some photos from past events. It was especially fun to dig out the old Monster Foam photo album.