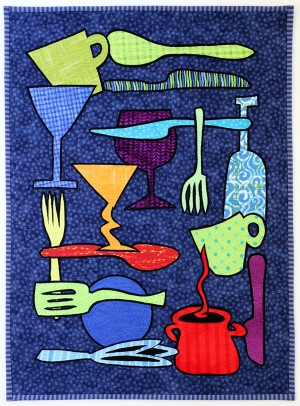 I've often though about doing more abstract work or big simple shapes because I love to stitch with loopy patterns. It's not that big, but here's a simple shapes quilt that I delivered to a friend this week using this stitch in the background.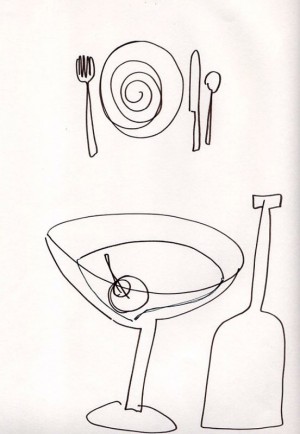 The simple shapes came from quick pen drawings that I later refined to use in the invitation to this show, then I enlarged them to make a food-inspired quilt. To make the background stitching show up, I used a course variegated blue thread, and then doodled around the kitchen objects. This is a lot of fun, so I hope to do some more of these.
The other day, I happened to run across an article about creating special touches for packaging your handmade items -it said there were a lot of Flickr photos tagged "handmade packaging." So inspired, before I delivered the quilt to the collector, I hand-wrote a card thanking them for the purchase and wrapped it up with a fabric bow.
This is how a usually wrap my quilts for transport. I used to use white cloth to wrap them, but batiks with colors are just so much more fun.