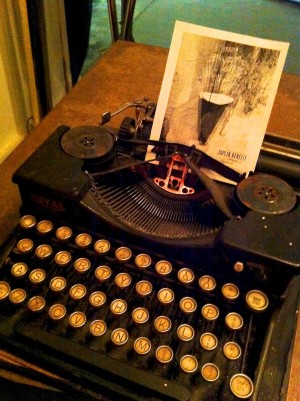 As Julie said in a previous comment on my blog post about hosting PechaKucha Night – it sounds a bit like speed-dating for artists. I love that description.
The format of 20 images with 20 seconds to talk about each one puts you in the range of 6 minutes 40 seconds to present your work. That's a lot of time compared to the oft-promoted elevator talk  — the 30 second spiel you can introduce and explain yourself to a stranger in the time between the elevator door closing and re-opening. At the his reception at the Art Museum last week, Roger Shimomura told us he often juries NEA grants where artists are permitted 10 images with 10 seconds per image. So PKN is looking like a good first date.
PeshuKucha Night vol. 4 at our studio was great fun. We had over  a hundred people — maybe more with some people coming early, some late. Although the format of presenting sounds rigid and the presenters do have to do their share of prep, the actual event is pretty casual atmosphere. Our doors opened a half hour early, there was a half hour intermission, and we invited folks to hang around afterwards — so there was lots of informal time to network, ask questions, explore the studio or just try out the vintage submarine game.
We had the big screen for the presentations strapped to scaffolding in the middle part of the warehouse with a lot of mis-matched chairs from various sources.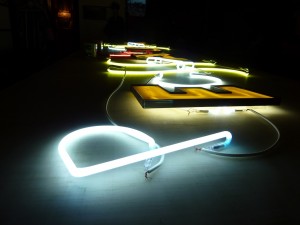 Russ also added some creative ambient lighting using old slide projectors and slides of Mesopotamian and other historical art (courtesy of the MSU art department who last spring auctioned off all their Art History slides and projection equipment at a surplus auction for, uhm, $5)
He also did a special installation of neon that spelled out PechaKucha on our framing table that added atmosphere and a great place for group photos.
But getting back to talking about art. One of the most interesting things I learned was how my friend Stephanie Cramer talks about her vibrant and evocative paintings. She likes to say, "You go first, then I'll share" which is a terrific idea that I never thought of, because then she has the opportunity to learn what people see her paintings before she gives them her ideas. Another thing she handles quite well is the issue of time. This is a often-discussed to death topic I see on artist email lists and forums. Some artists and some people who create incredibly complex hand-crafted items seem to hate being asked, "how long did it take?"
Stephanie just says, "this painting took me three years" and then moves on. Nevermind that she was also working on about 20-40 other paintings during that time. Art takes time to gestate, transform, evolve, to become what it is.
You can hear more of how artists talk about their work in these videos of Stephanie Cramer, Russ RuBert, and Kat Allie's presentations on our studio PKN page.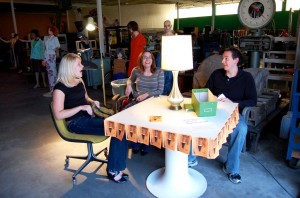 The other thing that was great about the event was the opportunity to work with such a great team of creative people. Amanda Taylor organized all the volunteers and presenters, ran the projector, and still had time to take an awesome set of photos during the evening. It's the first time that I've really been able to put together a good photo gallery of a studio event that included all the setup and weird stuff that seems to happen whenever we're setting up for a big event.
At PKN-4, we got to see 9 presentations, including Brandon Dake, AIA, president of the Springfield chapter of The American Institute of Architects present on the efforts to rebuild Joplin after a devastating tornado, and raised $360 for the AIA efforts to help in re-masterplaning there. So it was a good evening of art speed-dating.
Related links: