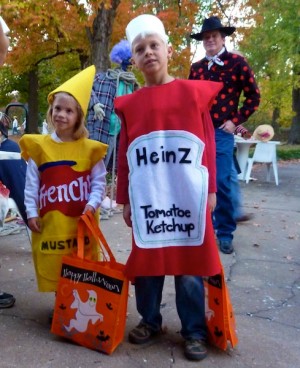 Regardless of what most people thing, Halloween is not just about ghouls and goblins — it's all about spontaneous creativity. It's the one time of year that most people think it's perfectly acceptable to dress up in costumes and become someone or something else and walk around on public streets.
Just think about it. Most of people don't ask what you're going to "do" on on Halloween, they ask you what you are going to "be" ?
There are no rules about what you can become, and the idea that you can totally transform yourself through mask, costumes, makeup, wigs, cardboard, foam, or spray paint is very empowering.
When we first moved here, we were completely unprepared for the amount of Trick or Treaters that come to this neighborhood.We get hundreds of kids dressed creatively as superheros, food, animals, rock stars… some people dress their dogs too.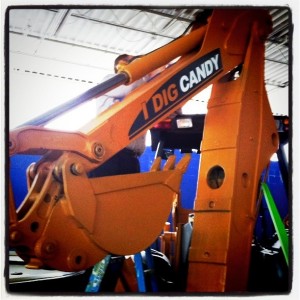 Maybe it's something about the old neighborhood, old stone gates, narrow streets, friendly neighborhoods — I don't know but it seems to draw a lot of kids. That first year, I think we had to make about 5 emergency trips to the neighborhood Smillie's grocery store for more candy.
Since then we've started to doing concept installations for the one night on our lawn and driveway. There has been a Haunted Sushi Bar, Domestic Nightmares, Beastro Market… like Brigadoon, these places appear for one night only, then disappear.
This year we've gotten a lot help from our fabulous "Candy Construction Crew!" Here's a few photos from the candy making party yesterday. We're making big candy for "I Dig Candy" — a big candy road construction theme, complete with a zombie crossing.