We were fortunate to have one of Russ's friends from the ISC board come to Springfield as a consultant to aid in visioning as part of the search for a new director for the Springfield Art Museum. George has worked at great museums for over 40 years, but he's also an artist and loves talking to artists.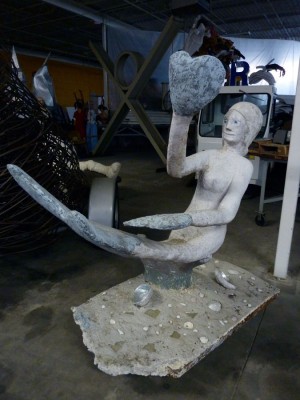 His current passion is creating a national folk art museum and library in Nebraska and probably enjoyed the drive down here because he got the chance to explore the countryside.
Russ gave him a Ralph Lanning stone sculpture called Mountain Goat for the Flatwater Folk Art Museum, so that was probably another incentive to drive a car with a big trunk. Ralph Lanning was retired dam-builder from Republic, Missouri and mentioned towards the end of this New York Times article about outsider artists.
After Lanning's death last year, his entire estate of concrete animals (including a two-headed dog), figures, small churches, and other carved stone went up for auction, and Missouri State University bought many of them through a grant and rep of the Kohler Foundation.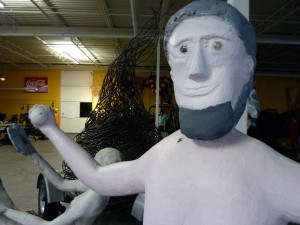 However Russ was also there and bought about 20 of the smaller stone carvings, and also this curious lady mermaid. She has fins for hands, but also the raised hand looks sort of like a heart, and a small mirror is embedded on the other side — so you could wonder if she's looking at herself. Also I swear that, depending on which direction I approach, her mysterious smile/grimace seems to change at times.
Sound familiar?
Another large Lanning sculpture at our studio we call Adam, although I'm not sure why since he's holding a baseball instead of an apple. I happened to find this Photo of a Naked Concrete Man and His Message on panoramio.com. Apparently it was taken on location long before Russ acquired the sculpture, because it has some parts that are now missing due to a public dispute between Lanning, a chemical waste dump across the street from his house, the Republic City Council, and kid with a baseball bat.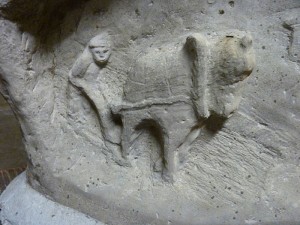 Adam and the Mermaid make a great pair, and with many other smaller stone carvings, we have quite a collection.
I've been reading and writing a lot lately about public art and museums and had been thinking how art connects people through time and space.
But I could never put it so nicely as George did in his Visual Literary Statement that he shared with us:
"A work of art serves as a linkage of the human continuum — past to present, present to future. Cultural artifacts must be experienced and understood as both a physical object and an event in time. As an event in time, they carry numerous complex attributes implying intellectual, spiritual, social, philosophical and scientific records of experience and speculation that are unique to the time and place of creation."
— George Neubert, Flatwater Folk Art Foundation
Now whenever I look at these primitive stone carvings in our studio, I feel like something is looking back at me from a different time and place.