It's great to get these little messages now and then to keep you going. Thanks Little Tokyo, our neighborhood Japanese restaurant, I needed this!
All week I've been trying to get ready for PechuKucha #6 at the Creamery Arts Center. I'd kind of planned on presenting my 20×20 images of artists' portraits done in iPhonegraphy, but had to widen it to just iPhone portraits in general.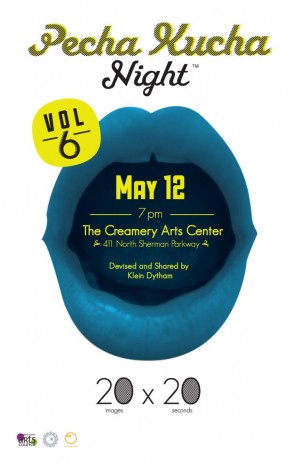 Finding my stuff sprinkled over the internet, between computer and phone has been a challenge, and continuity is another. Also I've had to be careful about my work habits so as not to aggregate my iPhone elbow, lol.
Probably no one will complain about my expanded theme when I show the iPhone of Mochi and her baby groundhog admirer….
Along with me, the PechuKucha #6 presenters will be:
Andrew Cline, bike enthusiast and MSU professor
Lane McConnell, Farmers Market of the Ozarks
Meganne Rosen O'Neal, artist and LemonDrop organizer
Keith Ekstam, artist and MSU professor
Kevin Zimmerman, Elementary art teacher
Kim Flores, librarian
Avery Snelson, Philosophy student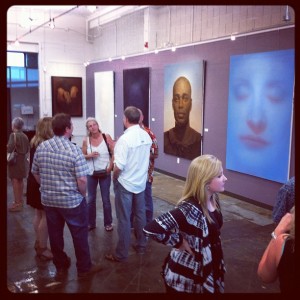 Since this event is at the Creamery, you'll have the added bonus of seeing Brad Noble's fantastic and surreal show of gianormas figurative paintings which will be on exhibit until the end of May!
Don't miss it tomorrow night – Saturday, May 12 from 7-10 pm, drop in any time. Presentations are only about 6 minutes long each, so no matter which one you catch, you'll learn something new about creative people in Springfield!