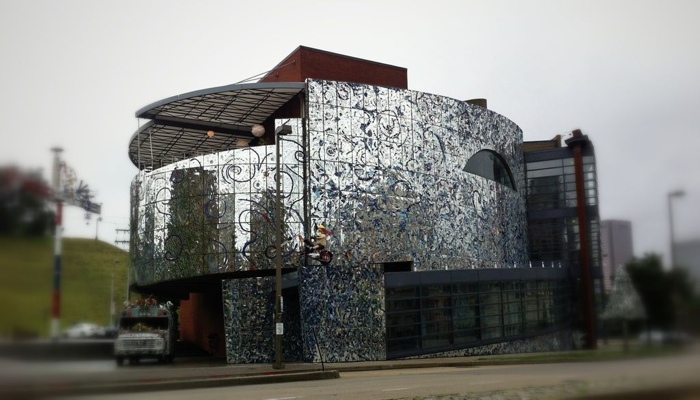 The American Visionary Art Museum is an wonderful place — three buildings of fantastic architecture dedicated to self-taught artists who follow their internal compass. The gift shop filled with art books and vintage toys and gimmicks was alone worth the trip around the Baltimore harbor on a rainy day.
They also host weddings (70 a year, the website boasts) and private events, a summer visionary art camp, Bazaart holiday marketplace, and sponsor the Baltimore Annual Kinetic Sculpture Race. Some amazing kinetic sculptures from previous races are garaged in the third building including a 20-foot tall pink tulle poodle and the "Bling Dynastry" ship.
Sadly they don't allow photos inside, and it was pouring yesterday outside in the sculpture garden. We visited the museum with Russ's niece who just gr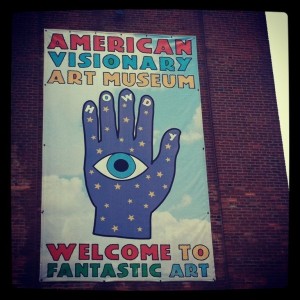 aduated and is getting ready to attend art college in the fall.
I did some sketches inside the museum of art and artists that I wanted to look up later, such as…
JJ Cromer's abstracted figurative patterns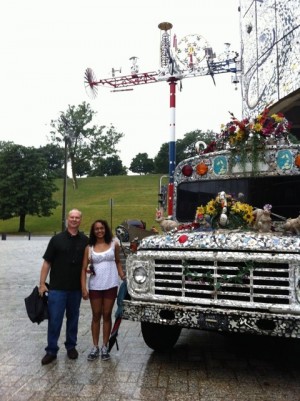 Ted Gordon's patterned portraits
Albert Louden's colorful pastel and painted figurative art
Scott Weaver's toothpick wonder "Rolling thought the Bay"
Mark Swindler's carved styrofoam cup faces
Paul Spooner's amazing kinetic toys
and these life-size robots made from found objects by Devon Smith — two of which were married at the museum!