It's been a crazy few weeks, finishing up quilts for deadlines. August 31 was the Fiberart International deadline, and I submitted three entries. Two weeks later the Quilt National deadline loams.
These are both shows I like the enter, but usually the years are different. I guess some show are biennial, some triennial, and then sometimes everything converges on the same little spot on the calendar.
It won't be so bad, except making Spinach Lasange Rolls in a hurry on Saturday night, after a glass of wine is not the best idea. After trying to chop a third of my fingernail off and the finger below, I switched to rubbing alcohol and Ultra-Strip Band-aids.
By Tuesday, when the temperatures peaked back to the high 90's, I was ready for a swim and so came up with this RX — cut finger off Playtex glove. Put on finger and bind with a rubber band. Swim or shower at will.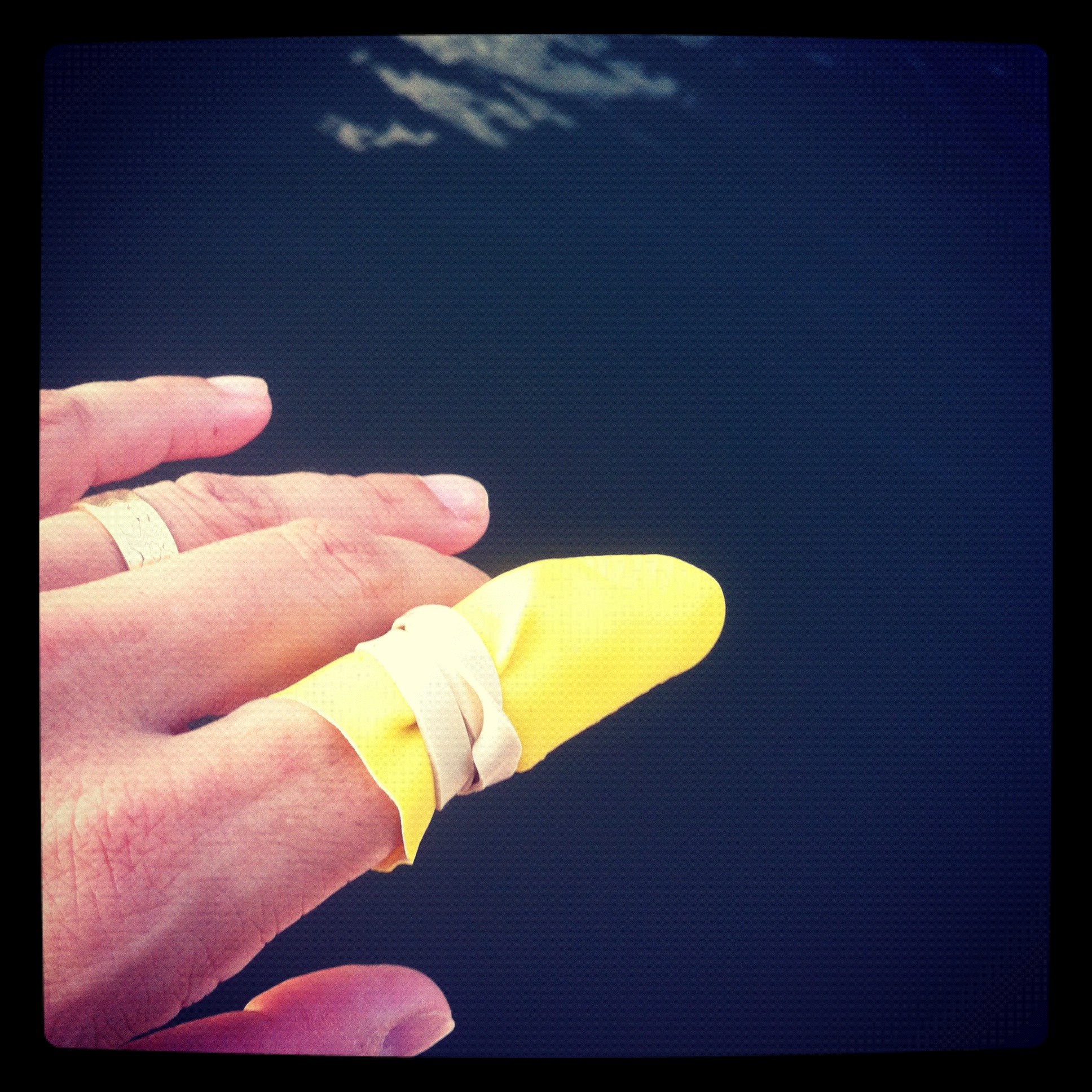 p.s. here's the Spinach Lasagne Roll recipe, minus band aides. I can't find the actual church cookbook recipe, so forgive the vagueness:
Spinach Lasagne Rolls
Boil water, add about 10-12 lasagne noodle and cook about 8-10 minutes. Drain, rinse and cool.
Make a tomato sauce: mince a clove of garlic, some onion if you like. Saute in olive oil. Add a can of tomato sauce, minced petite tomatoes, part of a can of tomato paste. Stir and add any fresh herbs from garden such as basil. Simmer sauce while preparing rest:
Chop lots of fresh spinach (this is the part where you need to be careful of knife.) Add a tub of ricotta cheese (not the diet kind). Add a 1/4 cup of shredded Parmesan cheese and 1/4 teaspoon of ground nutmeg. Mix.
Fill lasagna noodles with spinach-cheese mix and roll up. Place in baking dish and top with tomato sauce. Bake at 350 for 35 minutes. Add mozzarella or Parmesan cheese on top, then bake another five minutes. Allow to rest 5 minutes, then serve. Reheat leftovers as needed.
Here's what I was looking at while swimming:
Quilt National rules are very strict that you can't show your quilt, even a work in progress. But here's an inspiration photo. It looks nothing like the quilt, so I'm not afraid to post it. But is pretty nice to look at!