I've been driving to the airport a lot lately. Not to pick anyone one up or fly out of town, but surprisingly, for art reasons.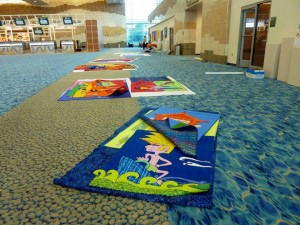 Tonight the Springfield Regional Arts Council is having a big art awards banquet. Happily our friends at Springfield Pottery who run the Claymobile among an huge amount of other arts-friendly stuff they do are award-winners.
So I've been driving out to the airport often to help organize and decorate for the Ozzie Art Awards.  Yesterday we drove a big truck full of white trees for party decorations. I'm anxious to see how this is going to work out.
We are lucky the new Springfield-Branson National Airport is a beautiful compared to our old one. For the past two years I've also been working with the visual arts committee for the Arts Council to help Sky Galley (a combination of five exhibition spaces) with changing exhibits of by art of created by our regional artists, universities, and public schools.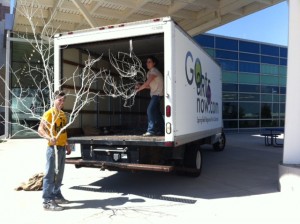 It's the first time I have exhibited of my own artwork at the airport, but the current exhibition is a textile and fiber art show titled, "A Sense of Place," so guess who has a lot of places documented in textile art?
The spaces are big, so I took a lot of work out there while we were hanging the show. It was great to lay them all out on that huge floor and watch people walk around them.