I thought it was silly when I saw this headline on the web, but then I thought  — if you are using it as your camera, how do you take the photo? My solution – my old iPhone. So I did a quick self portrait holding the iPhone5. No Photoshop involved, just took the photo, then emailed it to myself, five times.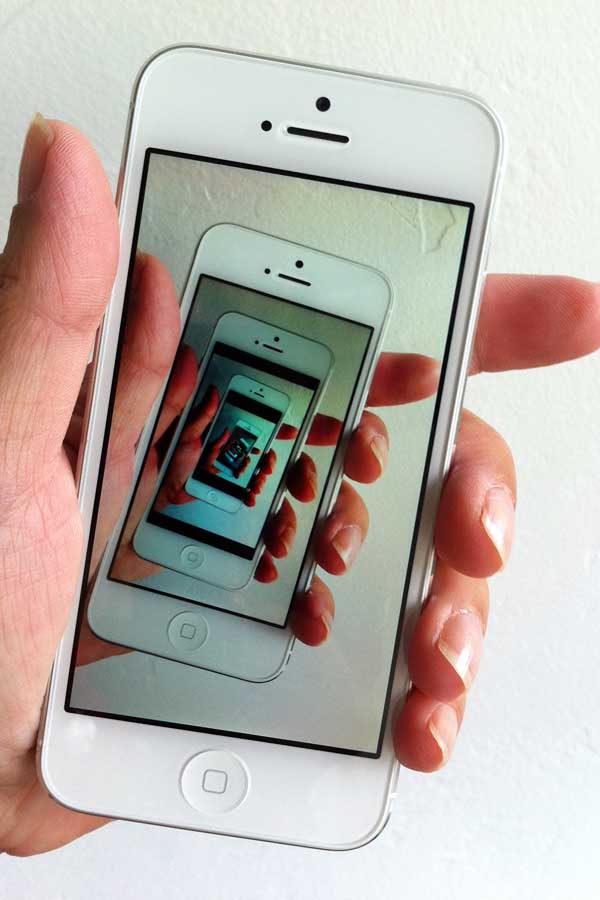 Actually I was also inspired a bit by this poster of a Lost Wormhole by Australia designer Michael Kleinman that I saw on Laughing Squid. Funny, but then it's also the kind of thing that does funny stuff to your brain, right?
The other thing about one of those iPhone5 blog posts, was the advice to check manicure before clicking the shutter.
I've got a problem with that too because I accidentally chopped off half of my index fingernail a few weeks ago. While it's on the mend, it still hurts to work with new skin exposured, so I've recently had an adventure with glue-on nails.
Being a novice at such things and despite reading the instructions that clearly state not to get the glue on your skin or in your eyes, I somehow managed to glue four of my fingers together, two from each hand.
Though that part is embarrassing, I am proud of the fact I was able to open a bottle of nail polish remover with my teeth, pour it into a soap dish with my elbows, and soak my captive fingers apart. I guess this means the yoga practice is paying off.