It's not often that something I create is controversial. Or perhaps I should say, misunderstood.
Earlier this month, in memory for Panbanisha the famous bonobo who knew language through years of growing up in a conversation and story-rich environment created by her human caretakers, Russ and I created Panbanisha.org.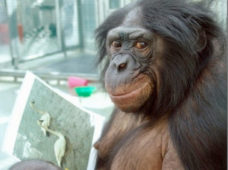 Russ knew Panbanisha and her famous brother Kanzi before me. Between semesters at the Kansas City Art Institute, he would travel to the Language Research Center in Atlanta, Georgia to help his sister Sue create aluminum and stainless steel tool sites for the bonobos and also for chimpanzees Sherman and Austin.
Later after we were married, on a visit to Atlanta we arrived too early and found the front door locked. Being restless artists who pass time by creating something new, we found an electrical outlet on the porch and created a multimedia program on an Amiga computer with animated graphics that said, "Door is locked. Let us in!" with animated arrows pointing to door. Back in the early 1990's, before PCs were capable and Macs were struggling, we were using Amiga computers and video systems to create 3D renderings, art presentations, and multimedia programs.
W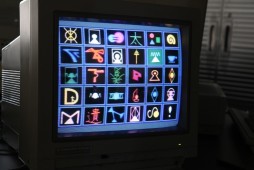 hen Sue and Duane arrived, they were astounded that we had created this program in a couple of hours. After that we embarked on almost a decade of work creating a "talking lexigram keyboard" that we called Language Vision. It was a system of nested symbols called lexigrams linked to computer touch screens, laserdiscs, video games to help the bonobos develop their cognitive skills and to study their abilities. We also created monkey maze games funded by NASA to study cognitive abilities of monkeys and Sherman and Austin. When NHK of Japan visited to document the research, we assisted with filming, editing videos, produced in-house documentary videos, and watched Panbanisha chase our dog.
All this was before the internet, blogs and social media. I don't have a lot of photos, because most of our energy was focused on creating the work, but we have old magazine articles from Time, Newsweek, and other print publications that I should scan someday.
It's hard to describe how all this intense creative work and thinking about the origins of language and self-awareness effected me, except to say it was profound and became integral to my personal identity. So when we received word that Panbanisha had died of a cold (later determined to be pneumonia), we were terribly sad and concerned about the well-being of the other bonobos.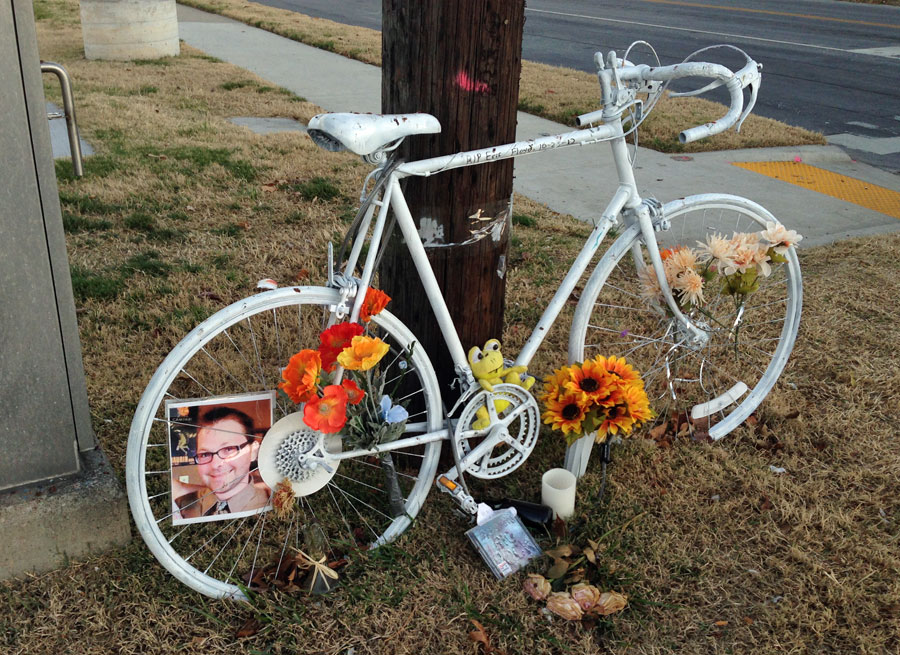 Since October I have been passing a ghost bike everyday on my way to our studio. The white bike had placed by family and friends in memory of a young man named Eric Floyd who was killed crossing a busy street on his bike. It wasn't his fault – the street had no pedestrian cross-signal. It wasn't the truck driver's fault – he didn't see the bike in the dark. It was just a terrible accident, and a few days later, to mark the event and location, someone placed a ghost bike at the corner of the intersection. As time passed, flowers and other personal items were added by others.
When Panbanisha died, the ghost bike gave me the idea to create something for Panbanisha.  Knowing there would be other people around the world feeling a sense of loss, we decided the best ghost bike would be a website. Russ secured the domain name, and after some late night hours, we created Panbanisha.org.
It was tearful accumulating photos and building the site. But like any family that suffers the loss of a loved one, part of the healing process – not just for us, but others involved.
Unfortunately however, our good intentions have been misconstrued. Some bloggers and media are saying the site was created as a fund-raiser immediately put together after Panbanashi death, and I've received rather unpleasant email to that effect. The fund-raising effort and new Bonobo Hope website had already been in development for several months before the tragedy. A donate link to that previous effort was only added to Panbansha's site as a way to let people contribute to the future well-being of the family of bonobos in Des Moines, Iowa, who are incredibly rare, endangered, and culturally valuable.
I'm not sure what motivates some people to look for the bad in things, to create blogs and write articles to hurt others. For those of you who know Russ and I well, you know we don't do creative work motivated by money, we do it because we believe we can help an important cause. For myself, I've also always seen the internet as an amazing way to connect and inspire people, and I'm happy to be here, sharing my ideas and art. I probably don't say this often enough, but thanks for visiting my blog and reading this.