The little ginko tree outside the ideaXfactory started looking a little sad after it lost its leaves as the weather got colder, so we've been adding a few things. Like a tree sweater. Actually it sort of start as a turtle neck I knitted, (heh) and then I've been slowing adding arms.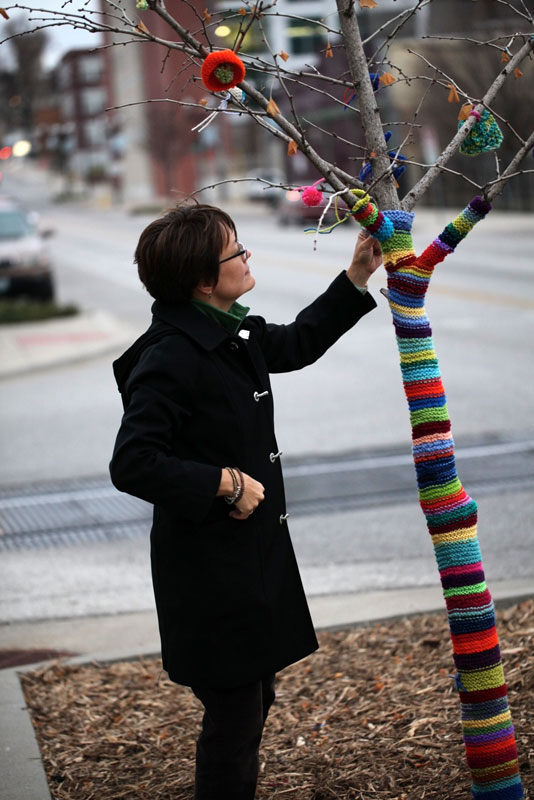 My friend Penny made all sorts of creative little pompom creatures and plants that are attached in the top branches.
For First Night Springfield, the ideaXfactory will be participating in the downtown New Years' Eve celebration, with the new Art of Space "Knitting Space" installation, and Russ is building a neon and LED sculpture environment. Here's more information about ideaXfactory, tickets, and other First Night venues.
We were planning on hand-on yarn activities, but because of the low-light necessary for the art environments, we are moving the hands-on activities two doors down to our friends' SquidFoo Art Gallery and Hacker Space. Hopefully the evening won't be too cold, and we'll also be able to work out on the Boonville street.
We won't be able to teach anyone how to knit or crochet in one night, so I've been thinking of some easy yarn techniques that people who show up can do — yarn flowers made on plastic lid looms has been very popular so far. Also I'm thinking of pompoms, tassels and braids.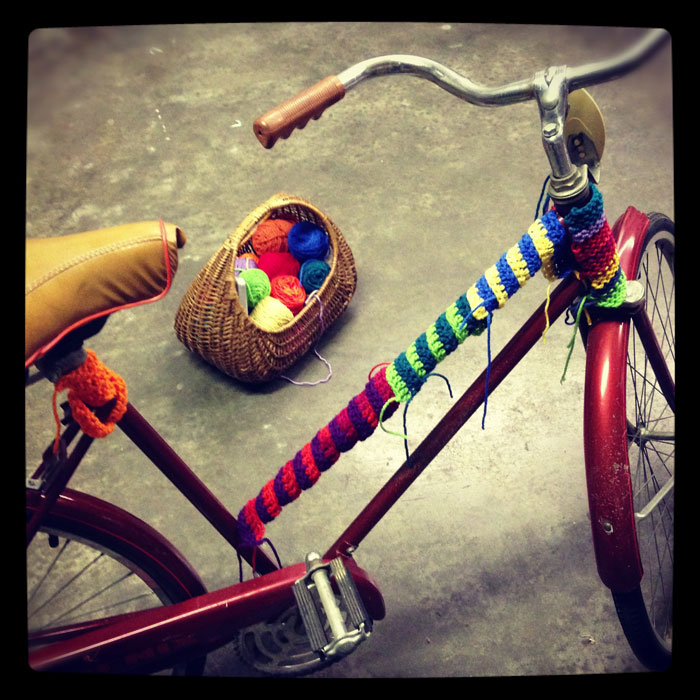 Here's a bike I started to test out the different techniques. We have two more Sundays to prepare our yarn bombers crew, materials, and supplies, so if you have any other ideas for simple yarn techniques, please let me know!
Sometimes I stress out when trying to organize events and collaborate. Here's a nice short PechaKucha presentation reminder to relax and lighten up, and in fact, why to even collaborate at all: Collaboration and You, by Shantell Martin: 'Get out of your head and into your body, Hell yeah !'